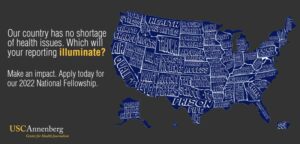 The USC Annenberg Center for Health Journalism's all-expenses-paid 2022 National Fellowship helps journalists, and their newsrooms, report deeply and authoritatively on the health, welfare, and well-being of children, youth, families, and communities.
Now in its 15th year, the National Fellowship annually offers five days of informative and stimulating discussions, plus reporting grants of $2,000-$10,000, engagement grants for new community-journalism partnerships and five months of expert mentoring as Fellows work on ambitious explanatory or investigative projects. In all its training institutes, the Center emphasizes impact journalism, solutions journalism, and community engagement approaches that help journalists to make a difference.
Fellows learn from nationally renowned health experts, policy analysts, and community health leaders, from top journalists in the field, and from each other. Participants will "graduate" with a multitude of story ideas and sources and a thorough understanding of the root causes of ill health and disparities in outcomes, including why the pandemic is having a disproportionate effect on people and communities of color, the role of childhood trauma in shaping lifelong health and exploration of environmental and community conditions that can influence how long we live and the quality of our lives.
Who can apply?
U.S.-based professional journalists with a minimum of three years of professional experience. Reporters who hold full-time staff positions in newsrooms that are both large and small. Freelancers are welcome to apply, but must have a confirmed assignment and should earn the majority of their income from journalism.
We give preference to reporters pursuing collaborative projects between mainstream and ethnic news outlets.
Applicants are strongly encouraged to reach out to Martha Shirk at CAHealth@usc.edu to discuss their ideas ahead of time.
Date and Time:
Sunday, July 10, 2022, to Thursday, July 14, 2022
Application Deadline:
Wednesday, May 18, 2022 – 11:00 pm
Find out more information, schedule a meeting with an advisor, or apply at https://centerforhealthjournalism.org/event/2022-national-fellowship.