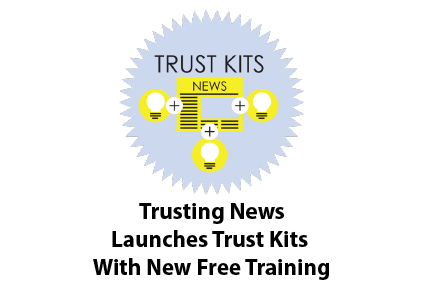 Are you a journalist who knows the importance of earning trust but aren't sure where to start? Join us for a series of 45-minute training where the Trusting News team will walk you through some of our most basic and effective strategies for earning trust.
Using our newly launched Trust Kits as guides (trustingnews.org/trustkits), we'll break down some of our foundational principles for earning trust into easy-to-follow, step-by-step processes.
Here's what you can expect: The first 30 minutes will be focused on how journalists can take action and will include perspectives from partner journalists on how they've implemented these strategies in their own newsrooms. Then we invite you to stick around for another 15 minutes if you have questions or want help brainstorming.
June 15: How to add daily transparency to coverage 2:00 PM EDT
June 29: Responding to comments 2:00 PM EDT
Register below for the series, but feel free to only come to the ones that will be most helpful.