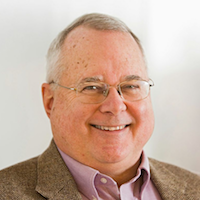 Tom Kearney has been a Stowe Reporter since 2005; managing editor; also in charge of overhauling the news coverage and presentation of the weeklies the company acquired since 2015 — the News & Citizen of Morrisville, The Other Paper of South Burlington, Shelburne News, and The Citizen of Charlotte and Hinesburg. The Stowe Reporter has won best small weekly in New England twice in six years.
Kearney took an 18-month break to be senior manager for global editorial quality in a Yellowbook startup that launched 700 monthly community magazines in 15 months. It folded, everybody was laid off, and he got his Stowe Reporter job back.
Prior to the Stowe Reporter Kearney spent twenty years as executive editor of The Keene Sentinel in New Hampshire, a regional daily that was judged best small daily in New England.
He is past president, New England Society of News Editors; former board member of New England First Amendment Coalition, New England Newspaper and Press Association, New England Press Association, First Amendment Committee of Vermont Press Association, N.H. Committee on Judiciary and the Media.
Two-time juror for Pulitzer Prizes in journalism and delegate in New England exchanges with Russian journalists, and a short lived exchange with Iran journalists.

His awards inlcude: New England Newspaper Hall of Fame, Yankee Quill Award, N.H. First Amendment Award, various writing awards.

Kearney is married, has two children, two stepchildren and five grandchildren.