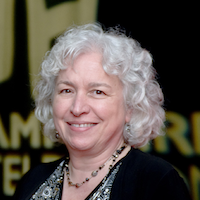 Dawn DeAngelis oversees the broadcast, online, educational outreach and communications efforts for New Hampshire's PBS station, She is passionate about producing locally relevant content with impact long after broadcast.
She also acts as liaison for the station's Community Advisory Board and cultivates and manages strategic partnerships and initiatives. She is a member of the Granite State News Collaborative's Advisory Team.
She has been at NHPBS since 2000 when she launched the station's new nightly public affairs program, NH Outlook. She and her excellent team of producers and videographers have won Tellys, regional Emmy awards and nominations, and more than a dozen local New Hampshire Association of Broadcasters awards for excellence.

Before joining NHPBS, DeAngelis worked in San Francisco producing television news programs for the ABC and CBS owned stations. Along with supervising the daily production of live newscasts, she produced special coverage for elections, earthquakes, wildfires and floods.