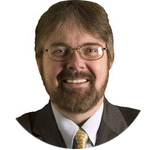 Kevin Slimp
Kevin Slimp is director of the Institute of Newspaper Technology.
Email questions to him at
kevin@kevinslimp.com
So much to write about, so little space.
It's been a whirlwind of a week for me, beginning in Knoxville, Tenn., where I caught a flight for what was supposed to be a quick trip to Winnipeg, Manitoba, before heading home for a couple of days, then heading to Sioux Falls, S.D., and Lincoln, Neb.
As I prepared to make my journey home, my plans were waylaid by a blizzard that shut down the Minneapolis airport, transforming my two-day visit to Winnipeg to five days. With my return flight rescheduled, there was no time to make it home to Tennessee, then back to Sioux Falls, where I was scheduled to meet a client.
This column is about my trip. Not the weather, although understanding how my schedule was altered plays an important role in understanding what happened during those 10 days.
At some point in the recent past, I realized I had spoken at 60 of the 63 press associations in North America during the past 20 years. With so many trips to so many places, it's only natural I would become friends with some of the folks I meet along the way.
What stood out to me during my 10-day journey has been the number of incredibly deep conversations I've had with publishers and government officials in the United States and Canada about the importance of what we do at newspapers. They were not superficial conversations. I visited the legislature of Manitoba (you have time for things like that when you can't leave a country), at the invitation of Greg Nesbitt, a former publisher and member of the legislature.
I visited with the leader of one of the political parties in Manitoba. We discussed the crucial importance of a free press, and even talked about some recent decisions in Canada that could have disastrous consequences for a free press. He ripped off a piece of paper and gave me his email address and phone number. We plan to keep in touch.
When I eventually made it to Sioux Falls, I was greeted with an overnight storm that generated close to a foot of snow. While most people in the city were tucked in their warm homes, I took off to visit newspaper friends in the Sioux Falls area. Once again, our conversations turned serious, sharing concerns about a shortage of newsprint, the effects of venture capitalists on our industry and other matters.
Throughout those discussions, I noticed a common thread. Not a single person seemed panicked about everything happening in our industry. The newsprint shortage is surely temporary. I even connected some friends in the United States with paper plants in Canada while I was there. The venture capitalists will eventually fire their last employees, sell their remaining buildings, and get out of the way.
Scenes like we saw in Denver, Chicago, Knoxville, and San Diego the previous week seemed to energize everyone in the newspaper business, even folks who work at those papers.
In Winnipeg, I met Darrell, who has been starting papers in small towns in Manitoba. I connected him with Joey, who has been doing the same thing in Kansas.
In Nebraska, I had a three-hour conversation with Rob Dump, one of my favorite community publishers, as we drove to Lincoln together for the Nebraska Press Association Convention. In Lincoln, the conversation continued as I met with Rob and his wife, Peggy Year, another of my favorite publishers, as we shared our concerns and dreams about our industry for more than three hours.
Here's what I learned during my 10-day trek to Manitoba, South Dakota and Nebraska. In the 25 years I have been consulting with newspapers, I can't remember a time when there was so much interest among publishers in what is happening in our industry, and so many people who are determined to change course from the pessimism of the past few years to doing whatever it takes to steer our industry in a positive direction.
Like many of you, I believe there is no freedom without a free press. Like many of you, I've got my sights set on a future dedicated to protecting that freedom. Dominoes are falling. I, for one, can't wait to see where they land.