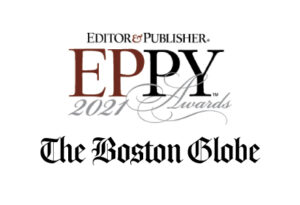 Editor & Publisher announced the 2021 EPPY Award Winners & Finalists on November 1.
The Boston Globe won best daily newspaper website (1 million or more unique visitors) for BostonGlobe.com. The judges commented,
"BostonGlobe.com reflects the diverse, exciting and intense nature of its home, providing a great resource to their community."
The Globe was also a finalist in the best investigative/enterprise feature category for "Behind the Shield" and in the best investigative/enterprise video category for "A Beautiful Resistance".
This year's EPPY Awards received more than 400 entries, across more than 40 diverse categories, that included best use of sponsored/ branded content, best use of social media/ crowdsourcing, best radio & TV Websites, and more.
Entries came from media companies large and small wold-wide, that included local news publishing, broadcast networks, cable news & sports networks, international pureplay Websites, niche content publishers, as well as many colleges and universities.
Our congratulations go out to The Boston Globe and all the winners!