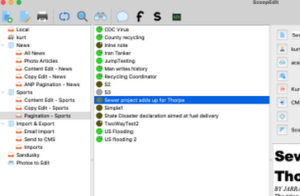 At America's Newspapers Conference in Colorado Springs, CO, CherryRoad Media  (Parsippany, NJ) has signed contracts with SCS to implement the Community Advertising  System and Community Publishing System to standardize the advertising, production, and editorial workflows across its 27 community newspapers.  
With titles in seven states each coming from different ownership groups, CherryRoad and SCS  will be working closely on an implementation strategy that will provide a clear path toward a  centralized and consolidated workflow.  
"SCS is proud to work with Jeremy and his team at CherryRoad as the company embarks on its journey to give back to its communities with strong, local journalism," says Phil Curatolo, Director of Sales at SCS. 
About SCS: 
SCS offers an extensive line of publishing-related applications, including Layout-8000™. More than 300 sites producing over 2,000 publications in 10 countries in 5 languages use SCS  mission-critical software every day. SCS is privately held by Kurt Jackson. You can learn more about SCS at www.newspapersystems.com. 
About CherryRoad Media: 
CherryRoad Media is a subsidiary of CherryRoad Technologies and owns and operates 27  community newspapers in Kansas, Arkansas, Nebraska, Iowa, Missouri, Minnesota, and  Alabama. You can learn more about CherryRoad Media at https://www.cherryroad.com/cherryroad-media.