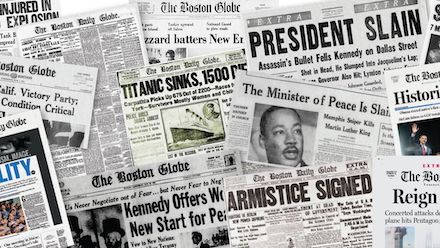 Today, The Boston Globe celebrates 150 years. The first edition was published on March 4, 1872, and to mark the occasion, the Globe published a special section in print and online, looking back on the 15 decades of coverage and historical moments from their archives.
Included is a note from Linda Henry, CEO, Boston Globe Media, and John Henry, Publisher, Boston Globe Media, thanking the community for their readership and support.
"We joined the Globe in 2013 because we value this community and are invested in the future of Boston. We know that strong local journalism provides in-depth coverage, analysis, and perspective on issues that are critical to the future of a region. We believe that New England thrives with a more healthy, vibrant Globe."
There is also a note from Globe Editor Brian McGrory recognizing the 250 or so staffers in the Globe's newsroom and on the editorial pages, "everyone good at something different."
Boston Mayor Michelle Wu congratulated the Globe on its 150th anniversary by naming March 4 'Boston Globe Day'.
There are many resources included in the special section including 150 of the Globe's most significant front pages from the archives, and an article highlighting 38 big stories from 150 years of Boston Globe coverage.
Access the section at: https://www.bostonglobe.com/special-projects/globe-150/