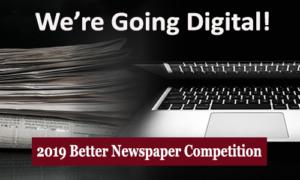 This year the New England Better Newspaper Competition is going digital!
The deadline has been extended until Friday, November 1, 2019.
The Better Newspaper Competition is the largest, most comprehensive and most competitive newspaper awards program in New England.
The competition has more than 100 award categories broken down into three divisions.
Editorial/Multimedia/Photography Division
Advertising/Circulation/Promotion Division
Specialty/Niche Publication Division
Daily, weekly, and specialty newspapers are encouraged to compete in a range of circulation classes. The contest will open in early September and is open to all NENPA members. The work that you've published between August 1, 2018 and July 31, 2019 is eligible. Unlike previous years, contest participants will need to submit links and pdfs of their best work.
When entering the competition please use the association code NENPA.
The awards will be presented at the annual New England Newspaper Convention, which will be held on Friday, February 7 and Saturday, February 8, 2020 at the Renaissance Boston Waterfront Hotel. More details to come.
We encourage you to participate in this year's Better Newspaper Competition!
For further information please contact Christine Panek, c.panek@nenpa.com or (781) 281-7284.
The deadline to submit entries is October 26, 2019.