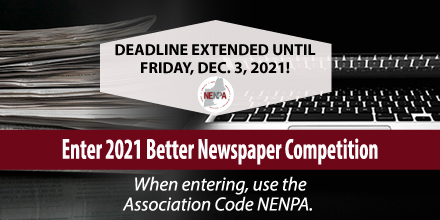 Deadline extended until, Friday, December 3, 2021!
The New England Better Newspaper Competition is the largest, most comprehensive, and most competitive newspaper awards program in our region.
The competition has more than 100 award categories broken down into two divisions:
Editorial/Multimedia/Photography Division – Download Editorial Categories & Rules
Advertising/Circulation/Promotion Division – Download Advertising Categories & Rules
New or modified categories for 2021:
Coverage of Protests and Rallies, Climate Change or Weather Reporting, Presidential Election Coverage, Racial, Ethnic or Gender Issue Coverage, Pandemic Photo, Sports Action Photo, Sports Feature Photo, and Combatting Misinformation and Restoring Trust.
Instructions:
– The work that you've published between August 1, 2020, to July 31, 2021, is eligible.
– Contest participants will need to submit links and PDFs of their best work. Please note that judges prefer PDFs over links, so we encourage you to use PDFs whenever possible.
– When registering on the contest site please use the association code NENPA.
– The contest is open to all NENPA members in good standing.
– The deadline to submit entries is Friday, December 3, 2021.
The awards will be presented at the annual New England Newspaper Convention, which will be held in Spring 2022.
We encourage you to participate in this year's Better Newspaper Competition to show off your best work, reward and recognize your staff, and share ideas so we can learn from each other!
For further information please contact Linda Conway, l.conway@nenpa.com.
Learn more about the Better Newspaper Competition