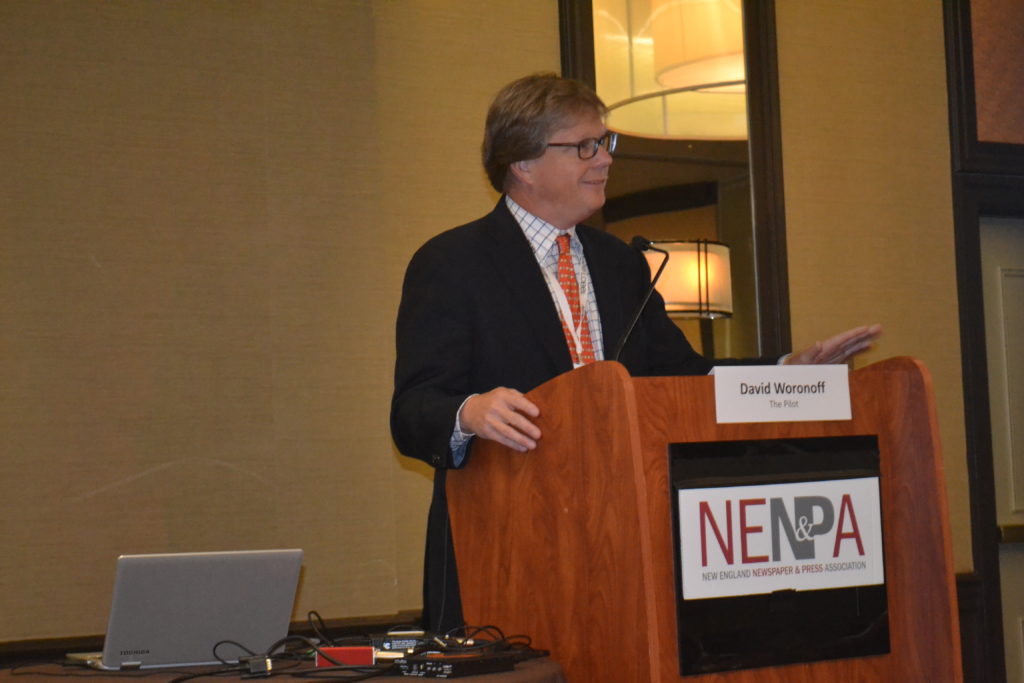 By Alison Berstein
Bulletin Correspondent
David Woronoff has some simple advice about the newspaper industry:
"If you break it down, 'news' is a lot more important than 'paper.' We've got to get these folks connected to us."
Woronoff was a featured speaker at the New England Newspaper Conference Oct. 12 at the Crowne Plaza hotel in Natick, Mass.
He is publisher of The Pilot, a twice-a-week newspaper in Southern Pines, N.C.
One way to get connected with an audience is to staff a publication with its target audience, Woronoff said.
"If you're creating something for 28-year-old guys, you have to staff it with 28-year-old guys," he said.
"We were trying to create a product for 20-somethings and we had one 20-something on our team," he said. "I got the 20-something gal and told her 'Go get every other 20-something' (to help create the product)."
Connecting with the audience means taking into consideration the needs of that particular audience, Woronoff said.
He used a Pilot product — The Sway, a digital newsletter in the Pinehurst and Southern Pines area of North Carolina – as an example of a local publication that is engaged in its community and its readership.
"What we try to do is think about what our readers want," he said, noting different demographics such as new mothers or single women looking for a partner.
Each demographic has unique needs, he said.
"We're trying to come up with products and ideas around those tasks," he said. "If you want to serve your market, you have to figure out how to get the news into their hands."
Woronoff encouraged audience members to embrace digital platforms such as Facebook as part of their marketing strategy.
"The Pilot is 97 years old. For 95 of those years, we were blessed with geographic isolation. Now the world changed: We've got Facebook, Google, Yelp, Amazon," he said.
"Social media is a big part of your marketing and your way to disseminate. Facebook and Instagram are the two social medias that we use most," he said. "This is the best way for us to get our information out there."
Woronoff has long since tried to convince his two daughters – now in their early twenties – to read the newspaper. When they went off to college, they told him that they received their news from The Skimm, a daily digital newsletter that, with its punchy style, seemed to be getting the job done in communicating the news to millennials.
And so The Sway: Your Insider's Guide to the Pines – a free twice-weekly email newsletter – was born.
"We created The Sway as a way to get digital people to hang their hat on," Woronoff said of the publication, which is known as a "survival guide" to The Pines of North Carolina. "We do have one banner ad at the bottom of the newsletter; the rest is sponsored content to get our advertisers in the game.
"If you haven't started a digital agency, I highly recommend it," he said. "It's a way for us to sell sponsored content and have a conversation with our advertisers that we would never have before."
The Sway has more than 6,600 subscribers, and Woronoff said he wants to reach out to each one.
"That's 7,000 people, and a lot of them don't read the paper," Woronoff said. "It's a way for us to get in and talk to them."
Woronoff showed a video made by The Sway team and shot in the style of "The Office," about the company culture of The Sway. The video depicted witty and hearty comments about the making and operations of the newsletter.
That lighthearted style reflects the culture at the Pilot, Woronoff said.
"Fun is one of our core values at the Pilot," said Woronoff, who refers to The Sway as a "sassy" publication. "It's a way to demonstrate that while most of our products are print, we can do video."
When asked by an audience member whether readers will take a publication like The Sway seriously, Woronoff said the newsletter balances legitimate news stories with less charged content.
"The news comes from the newspaper," he said. "We have real news on there as well as silly stuff. We don't run all of the stories on the website. We just pick the ones we think are going to be of interest to those folks."
Woronoff is a proud resident of Pinehurst, N.C. – golf capital of America, he said – and sees potential in his town as a budding audience, he said.
"We're an old town that became a new town with young folks. I want to aggregate all these young folks," he said.
"We believe we exist to serve our community, not the other way around," he said.
Woronoff invited publications to "start with simple things" to interact with their communities in ways that newspapers traditionally have not done.
"Start a book club. As soon as we did, the local hospital said, 'Can we pick a book about cancer for your book club?' We have 40 to 50 women in our bookshop per month buying a book. They show up and have a great time," he said.
Woronoff is optimistic about a publication garnering an audience if that publication is invested in its audience.
"We want to create products that will make our community proud," he said. "If that's your guidepost, you'll be successful."
He also was optimistic about the potential of those in the audience at the conference.
"I can't reiterate enough that if we can do it, you can do it better than us," he said. "There's no secret formula. I don't know anything that you don't know."
'We're an old town that became a new town with young folks. I want to aggregate all these young folks.'   — David Woronoff