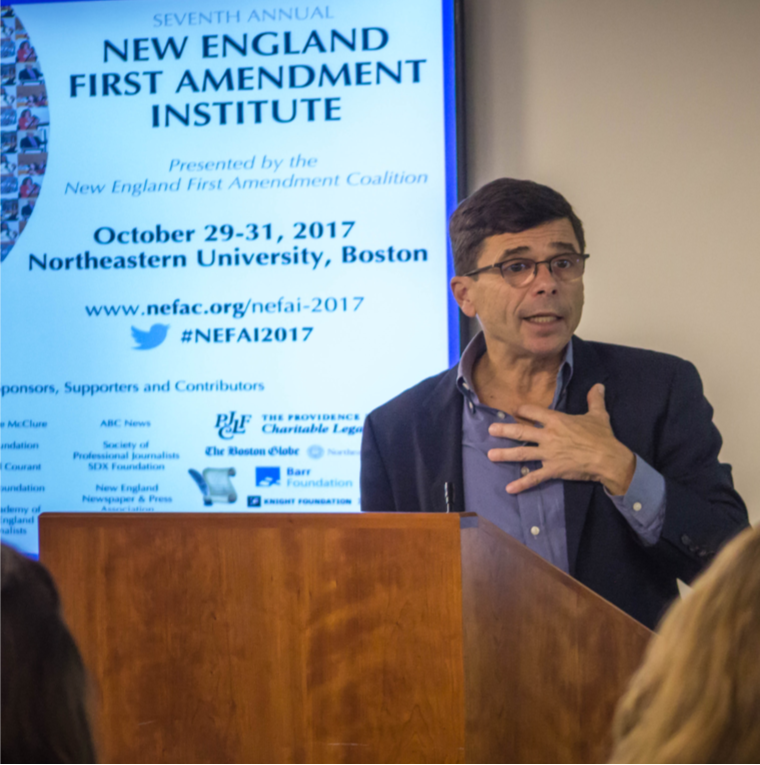 Bulletin photos by Avital Brodski
Rezendes: Trust your hunches
By Daniel McLoone
Bulletin Correspondent
Sometimes the best investigative stories are the ones that come from following a hunch, according to Mike Rezendes, an investigative reporter with The Boston Globe's Spotlight team.
Rezendes spoke to an audience of about 40 people in Northeastern University's Curry Student Center Monday, Oct. 30, as a featured speaker at the New England First Amendment Institute.
"Listen to your hunches and listen to that voice in the back of your head that says, 'Hey, wait a minute, this doesn't seem quite right'," Rezendes said.
Rezendes focused on two of the major investigative stories that he has worked on with the Globe's Spotlight team. He talked about the team's investigation of sexual abuse of children by clergy in the Roman Catholic Archdiocese of Boston, which led to a Best Picture Oscar award for the film "Spotlight" in 2015. Rezendes spent most of his speech talking about his stories investigating prison guard abuse leading to an inmate death at Bridgewater (Mass.) State Hospital.
Rezenedes' initial hunch about that story came after Joshua Messier, a man with no criminal record but a history of mental illness, was killed after lashing out at an orderly. The coroner's report ruled the death a homicide, but Bridgewater State Hospital took no action as a followup.
"Within six weeks, Joshua had been brutally killed by guards a Bridgewater in what was ironically called the Intensive Treatment Room," Rezendes said. "I just thought it was odd that there would be a homicide and no action taken."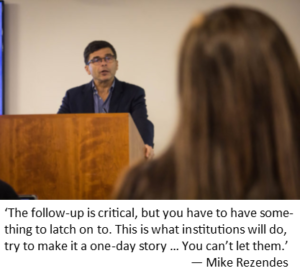 Rezendes' hunch proved to be right; his investigation led to the discovery of Bridgewater State prison guards using four-point restraints and isolated containment, methods of restraining the mentally ill that were not common practices around the country.
"Not only did the guards violate a half-dozen rules and policies, but there had been a cover-up in Joshua's death," Rezendes said.
His investigation led to the indictment of three of the guards present during Messier's death, and the dismissal of the assistant commissioner of the Massachusetts department overseeing Bridgewater State.
"I think a lot of newspapers or news organizations would have declared victory and moved on," Rezendes said. "But I had a second hunch: What if Joshua wasn't the only one?"
Again, Rezendes' hunch proved to be correct. He found a total of three deaths at Bridgewater State from similar actions and eventually wrote more than 30 front-page stories during a three-year period on the topic as he got more information. He found that prison guards at Bridgewater State used four-point restraints more than 100 percent more than other mental health institutions in Massachusetts.
"There's a contrast between punishment and treatment," Rezendes said about Bridgewater State, which is the only mental hospital in the United States run by a corrections department rather than a health department. "Mental health patients should be treated, not punished."
Following up on your initial story is crucial in making sure that nothing has been missed, because those being investigated will try to limit the damage to one story, Rezendes said.
"The follow-up is critical, but you have to have something to latch on to," Rezendes said. "This is what institutions will do, try to make it a one-day story … You can't let them. You have to keep going, but like I said, you have to have new information."