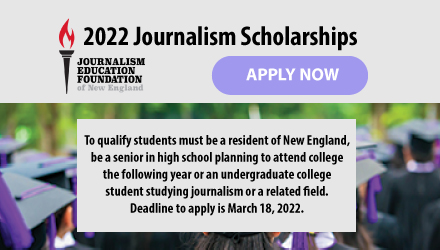 Once again in 2022, the Journalism Education Foundation of New England will award a number of $2,000 scholarships to high school seniors and college students in our six-state region who plan to pursue a career in journalism.
This is a wonderful program that encourages and supports those who will staff and lead our news organizations in the next generation.
Students from your area are eligible for these scholarships, but we need your help in spreading the word about this terrific opportunity!
During the course of the next couple of months please consider running a brief article and/or some of the house ads that are available by clicking the link below.
Thank you very much for your assistance with this. We're looking forward to helping some deserving students with their college expenses – hopefully at least one of them will be the son or daughter of one of your readers!
The deadline to submit applications is March 18, 2022.
For more information visit: https://www.nenpa.com/students/scholarships/