Two exciting webinars will be presented by in August by Peter Lamb, president of Lamb Consulting, a strategy firm based in Miami, Florida.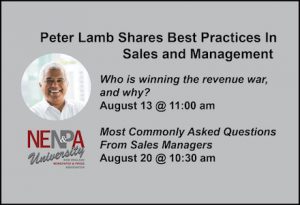 Lamb, who has more than three decades of sales and marketing experience, will share best practices for sales and management from his work with some of the world's largest media companies to make them more efficient, more competitive, and more profitable.

His consulting practice focuses on taking sophisticated strategic marketing principles and techniques, learned at Harvard Business School, and syncing them with a hands-on sales approach, to generate new revenue streams. Lamb supports newspapers to achieve ROI by focusing on NEW-NEW revenue, an approach that targets customers that have never used your products or services.

Lamb's speaking engagements, seminars, and webinars have been endorsed by many national/international media events, including the WAN-IFRA World Newspaper Congress, International Classified Marketing Association, Local Media Association, and more.

Don't miss these valuable sessions, free to NENPA members, and share the information with anyone on your staff who would benefit from them.
Who is winning the revenue war, and why? – REGISTER FOR THIS SESSION
Aug 13 @ 11:00 am – 12:00 pm
This session is geared towards sales representatives and their managers and will cover who is winning the revenue war and why by relating best practices from sales reps around the world, with the challenging COVID-19 times in mind. These are some of the questions and topics we will explore:
– What do your customers really want from you?
– What should you be saying to your Customer?
– Questions to challenge and provoke your CUSTOMER.
– The Methodology of the 12-minute presentation.
– Profile of a GREAT Sales rep……how do you measure up?
Most Commonly Asked Questions From Sales Managers – REGISTER FOR THIS SESSION
Aug 20 @ 10:30 am – 11:30 am
This session is geared towards publishers, revenue officers, and ad directors. It will explore some of the most commonly asked questions from sales managers around the world:
– What should my Monday morning meeting format be?
– How much time should I spend in the field?
– Should I close the sale for the rep? Let them sink?
– What contests should I use?
– How do I build a winning team?
– What is the MODEL week for me?