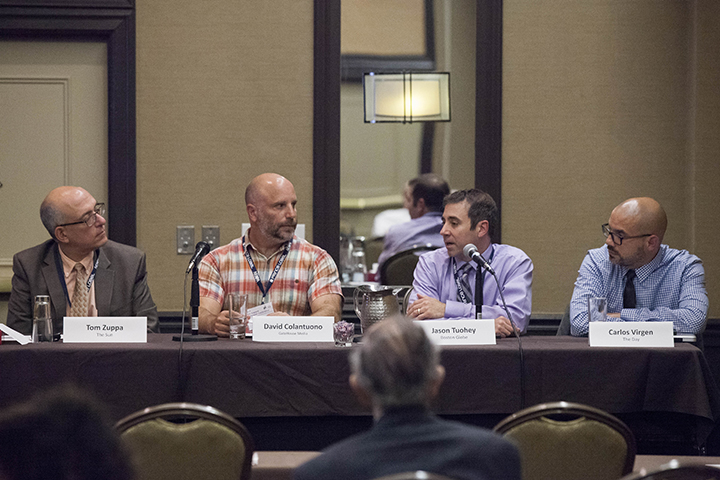 The four panelists at the discussion on using analytics in news decisions, from left: Tom Zuppa, David Colantuono, Jason Tuohey and Carlos Virgen.
Panelists: Analytics alter approaches to how news is covered, presented
By Daniel McLoone
Bulletin Correspondent
A successful newspaper today is a product of combining modern analytics with conventional journalistic thinking, according to Jason Tuohey, deputy managing editor of The Boston Globe.
"We try to have analytics sprinkled throughout everything we do," said Tuohey, who focuses on digital platforms and audience engagement at the Globe. "Some of it is based on what readers will like … Some of it is old school realizing that a story is good, and if we go at it and tell it the way we want to tell it, then readers will respond."
Tuohey was a member of a panel invited to talk about the growing use of analytics in the newsroom. The panel discussion, "Using analytics to drive newsroom decisions," took place during the New England Society of News Editors Journalism Conference portion of the New England Newspaper Conference Oct. 12 at the Crowne Plaza hotel in Natick, Mass.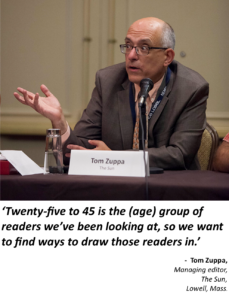 The panel also featured Carlos Virgen, digital news director of The Day of New London, Conn.; Tom Zuppa, managing editor of The Sun of Lowell; and David Colantuono, audience development and mobile specialist for GateHouse Media New England, the chain that includes more than 100 newspapers in five of the six New England states. The panel was moderated by Tim Cotter, managing editor of the Day.
Most of the panelists discussed how pageviews and social interactions on stories dictate the way that newsrooms have changed how they cover local news.
Zuppa said the key to that is identifying the target audience of the online platform.
"Twenty-five to 45 is the (age) group of readers we've been looking at, so we want to find ways to draw those readers in," he said.
The Sun now devotes more coverage to restaurants and social events because they were favored by readers in the Sun's analytics, Zuppa said.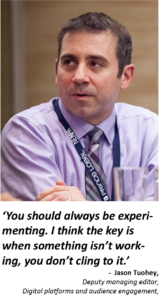 The long-followed formula of covering local events such as elections and town hall meetings with a traditional story is not as successful, Zuppa said. The Sun's first story on the results of the Lowell elections this past year peaked that day at 297th on the paper's online traffic list. Finding solutions to keep readers interested and still getting important facts across is a new challenge, he said.
Colantuono discussed changing the approach to certain beats that are suffering from lower readership.
As an example, he said: "Bullet points on what the reader needs to know work" as summaries of meeting action within a narrative.
 Virgen said using analytics is changing the approach to reposting stories on social media.
Zuppa said: "Maybe you take a more conversational tone in the post instead of (copying and pasting) the lead."
He also recommended reducing the number of posts with story links on social media.
"We're down from 20 to five to seven posts a day, and we're seeing much more engagement, Zuppa said.
If 20 stories are posted on the Sun website on a given day, only the top five to seven are posted on Twitter and Facebook posts.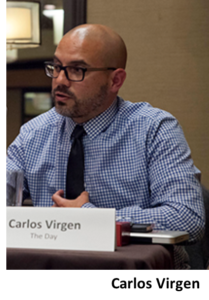 The Sun has cut down on social media posts so as not to overwhelm readers with such posts. With fewer posts, readers regard those as more worthy of attention and therefore those posts get more interaction. Fewer social media posts also cut down on the number of readers who might become annoyed with too many or too frequent posts, Zuppa said.
Colantuono acknowledged the difficulty of getting both a newsroom and audiences to accept changes to formats they are used to.
"It's like moving a battleship trying to get people to think differently," he said. " … I think we're slow in adopting new technology, and then we keep them around for a long time."
Tuohey said the difficulty of changing the system should not dissuade papers from trying new things.
"You should always be experimenting," he said. "I think the key is when something isn't working, you don't cling to it."
Panelists recommended different approaches such as photo albums, podcasts, slideshows, personal pieces, and moving around stories on the front page to drive traffic to social media and the main Web pages of newspapers.