Reps. Ann Kirkpatrick, D-Ariz., and Dan Newhouse, R-Wash., re-introduced the Local Journalism Sustainability Act for the 117th Congress, a bipartisan bill that seeks to help local newspapers sustain financial viability through a series of three tax credits.
The New England Newspaper and Press Association, along with America's Newspapers and other organizations around the country, supports the passage of this legislation.
"Local journalism is a bedrock pillar of communities across the United States," said Rep. Kirkpatrick. "Unfortunately, journalistic endeavors throughout the country face major economic struggles that put the future of many publications in serious jeopardy. These struggles existed before COVID, but the pandemic only made them more severe. We need to make sure these publications can sustain themselves through this crisis and beyond, and I believe the credits in this bill make significant progress in providing a pathway to that sustainability."
The Local Journalism Sustainability Act offers a series of three tax credits aimed at sustaining and providing a pathway to viability for the local journalism industry in the years to come. The first credit works to incentivize annual subscriptions to local papers that primarily produce content related to local news and current events and can also be used for non-profit publications. The second credit is a five-year credit for local newspapers to employ and adequately compensate journalists. The last of the three credits is a five-year tax credit that incentivizes small businesses to advertise with local newspapers, as well as local radio and television stations. You can learn more about the credits HERE.
The proposed credits in the Local Journalism Sustainability Act will encourage Americans to subscribe to local publications, help those publications retain and compensate journalists, and provide businesses and publications alike with much-needed advertising dollars.
Free Editorial and Editorial Cartoon Available For Reprint
This editorial column by Dean Ridings, CEO, America's Newspapers is being made available to members of NENPA, and other press associations for reprint.
Download and reprint this editorial and editorial cartoon to support the passage of the Local Journalism Sustainability Act!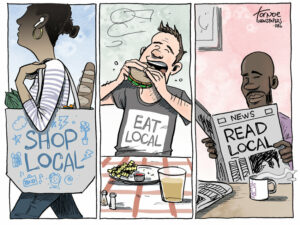 What you can do
We need your effort and focus in educating our federal representatives on this matter now. As a leader of your organization, please call your local representatives (US House and Senate) and let them know of the serious challenge facing your newspaper and local journalism and that we need their leadership by co-sponsoring this bill. We are seeking 100 co-sponsors from across this country and political ideology.
Educate your readers through local editorials on the tenants of this act, and why supporting local journalism and the ecosystem that serves it will only enhance the place they call home. An editorial and editorial cartoon are available for reprint from America's Newspapers (see links below).
Let us know the response you get from your representatives.
Thank you, in advance, for your good work on behalf of the newspaper industry!