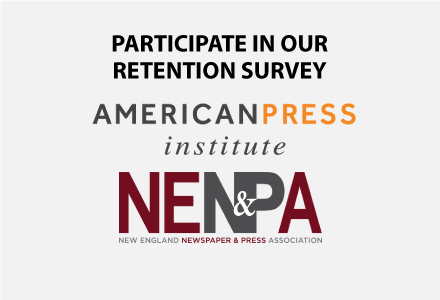 The American Press Institute, in partnership with New England Newspaper & Press Association, has developed a survey to benchmark digital subscriber retention practices among publishers.

Are you interested in comparing your subscriber retention strategies to those of other publishers? When you participate in this survey, you'll be able to compare your responses with other organizations in New England (and nationally) to discover which tactics and strategies are being used most frequently. You will learn innovative ways other publishers are using to engage and retain subscribers, members, and donors.

In this questionnaire, we are inquiring about your news organization's strategies and tactics used for retaining and lessening the churn of your digital subscribers.
The survey should take approximately 10-12 minutes to complete. Your responses will be valuable in several ways:
We will combine your responses with those of many other news publishers to produce benchmarking that you can learn from and use to measure your own operations against.
We can privately evaluate your responses to offer feedback or assistance (if requested) to improve these strategies.
The results will also help ongoing American Press Institute projects that focus on retention.
Take the Survey

The final date for responses is June 4, 2021.