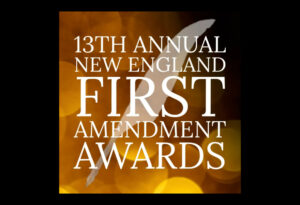 The New England First Amendment Coalition will present its 2023 Stephen Hamblett First Amendment Award to Brian McGrory, former editor of The Boston Globe and current chair of the Boston University journalism department.
NEFAC will honor McGrory at its 13th annual New England First Amendment Awards ceremony on June 1. The invite-only event will be from 7 p.m. to 9 p.m. at Tuscan Kitchen Seaport in Boston.
Also to be honored at the event is Nancy West, publisher of InDepthNH. West will receive the Michael Donoghue Freedom of Information Award for her work on behalf of the online non-profit news organization.
Portland, Maine, resident Susan Hawes will receive the Antonia Orfield Citizenship Award for her successful public records battle against Cumberland County.