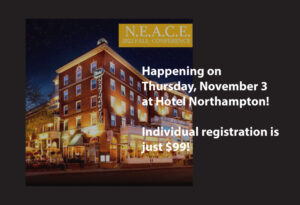 The Northeast Association of Communication Exectuvies (NEACE) Fall Conference is happening on Thursday, November 3, 2022, at the Hotel Northampton, 36 King St, Northampton, MA. 01060.
The conference theme is "Charting a Course for Change" and the organization is excited to announce the official launch of the new Neace.com and details of the re-branding of NEACE.
Conference Registration is only $99 and pre-conference registration is preferred.
REGISTER FOR THE CONFERENCE AT:
https://neace.ticketmambo.com/index.cfm?e=event&eventId=34701#cartForm
Hotel Registration – CALL TODAY Hotel Northampton at 413-584-3100 and reference NEACE to obtain the special conference rate – deadline to make hotel reservations is October 6th to receive the special room rate.
Room cost is $139.99 plus 11.7% occupancy tax for a total of $156.37.
INCLUDED WITH REGISTRATION – Banquet lunch on Thursday at Wiggins Tavern, continental breakfast, and two refreshment breaks in the morning and afternoon.
AGENDA
Thursday, November 3rd, 2022
8:00 – 8:30 am Continental Breakfast and Conference Registration
8:30 – 9:00 am Welcome to the Fall Conference
Invocation – Warren Dews, NEACE President
Thank you to our Valued Sponsors – Carol Dubuque, NEACE Vice President
9:00 – 9:45 am Newsletters and Audience Engagement
Dan McGowan, Boston Globe
9:45 – 10:15 am Coffee Break
10:15 – 11:00 am Newsprint Market Update
Frank O'Toole, Gannett
11:00 – 11:15 am Vendor Introductions
11:15 am – 12:00 pm Panel Discussion – Postal Strategies
Special Guest Brad Hill, Interlink, Jordan Brechenser, President & Publisher Brattleboro Reformer, and John Harrison, Moderator.
12:00 – 1:00 pm Lunch (Wiggins Tavern)
1:15 – 2:00 pm Topic TBD
Todd Peterson, Albany Times Union
2:00 – 2:45 pm Cash Discount Program
Aaron Kotarek, VP of Circulation, Oahu Publications
2:45 – 3:15 pm Coffee Break & Thank you to our Valued Sponsors
Carol Dubuque, NEACE Vice President
3:15 – 4:00 pm Panel Discussion – Workplace geographic changes and worker productivity
Gary Lavariere, Berkshire Eagle, Kevin LaMagdelaine, Media News Group
4:00 pm Final Comments – Lori Rahill, NEACE President