By Sophie Cannon,
Bulletin Correspondent
Anyone who has worked in a newsroom any length of time has war stories they tell about memorable incidents there, and some even involve physical confrontations. But few if any recount murders.
Not so the tales that will be told at the New England Newspaper and Press Association's winter convention.
Those who attended the NENPA's winter convention last year might be familiar with the book, "Murder Ink," which debuted there.
This year, the sequel, aptly named "Murder Ink 2," will be officially launched Saturday, Feb. 25.
"Murder Ink 2" is similar to its predecessor in that it is a collection of 16 different murder stories, all unified around the theme of a newsroom in trouble. The stories also feature a New England angle, and so those attending the NENPA convention are an ideal audience for the news-driven stories.
"This is a general-interest murder series," said George Geers, publisher of the book series and a veteran newspaperman. "Newspaper folks are most welcome to enjoy."
Those who have read and enjoyed "Murder Ink" will be happy to know that some of the stories from the first book have continued where they left off in the sequel. With returning writers such as Brendan DuBois, sisters Karen and Roxanne Dent, Dan Rothman, Amy Ray and more, fans of the first book will be delighted to continue reading about murderous newsrooms in New England.
The second book follows the same concept as the first, Geers said.
"Some returning writers are continuing the settings they wrote about in 'Murder Ink 2.' Plus, new writers are being introduced," he said
A press release by Plaidswede Publishing of Concord, N.H., publishing company of the "Murder Ink" series, describes the book as "a collection of hard-bitten newsroom crime fiction based in New England."
The editor of the series, Dan Szczesny, is enchanted by the idea that the book is set in New England and even more excited to have the stories written by those native to the area.
"This region is so rich in newsroom lore, and who better to tell those stories than writers from the front lines of the news," Szczesny wrote in the press release. "And who knows, some of these stories might be true!"
The New England Newspaper and Press Association's winter convention is being held at the Boston Marriott Long Wharf hotel Friday, Feb. 24, and Saturday, Feb. 25.
The "Murder Ink 2" book launch lunch will be held from noon to 2 p.m. Saturday, Feb. 25.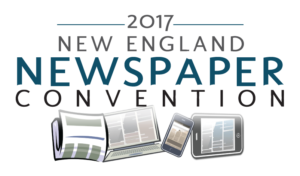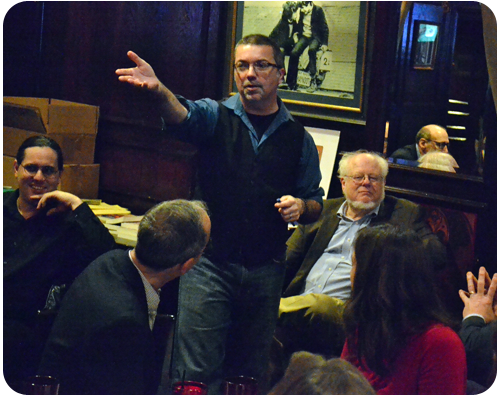 At last year's New England Newspaper and Press Association winter convention, Dan Szczesny, editor of "Murder Ink," gestures to the audience before introducing the 10 authors who read excerpts from the book. To the right of Szczesny is George Geers, whose company, Plaidswede Publishing, published "Murder Ink" and this year's sequel, "Murder Ink 2."