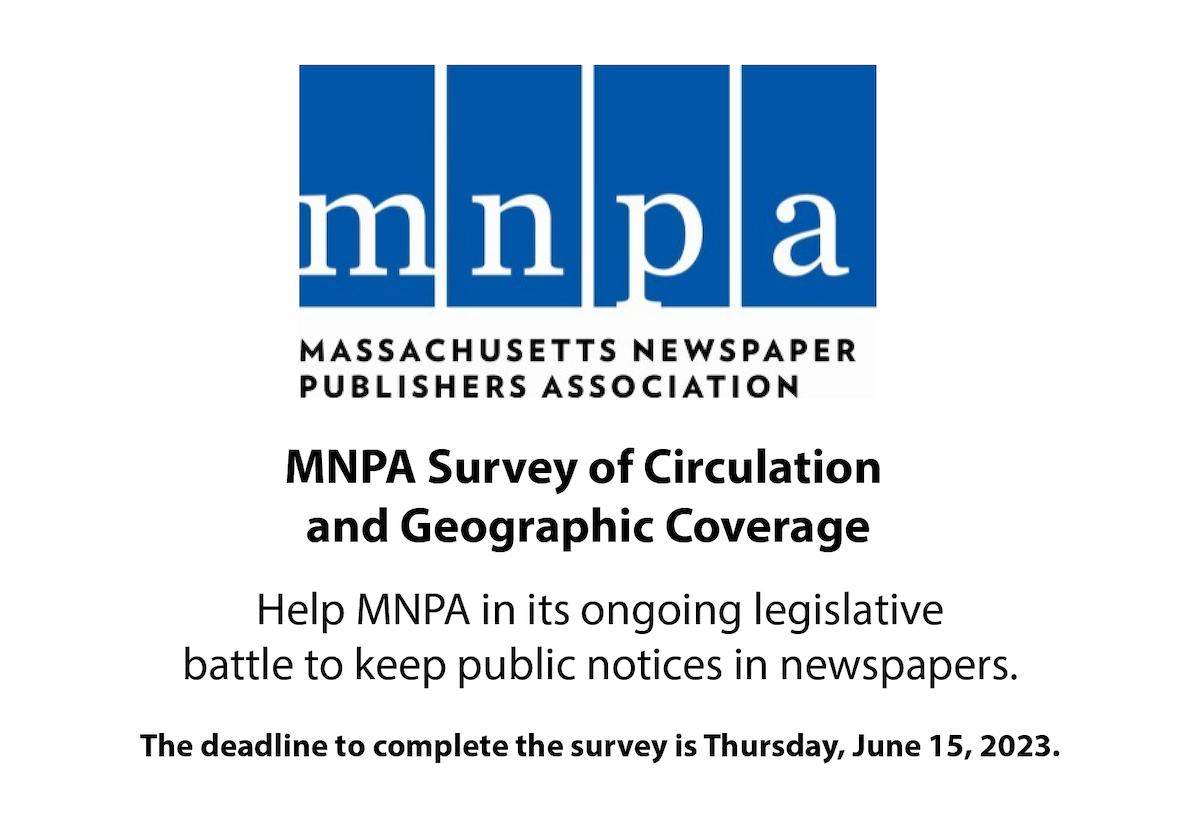 In recent years, Massachusetts legislators have stepped up efforts to remove public notices from newspapers. One argument they increasingly advance is that newspaper closings and shrinking circulations have resulted in a lack of coverage of certain geographic areas of the state and dwindling readership throughout the state.
In order to present an accurate picture of the scope of combined print and digital newspaper readership in Massachusetts, the Massachusetts Newspaper Publishers Association (MNPA) is conducting this survey with Massachusetts publishers and asking for your cooperation in participating.
Individual newspapers' responses will not be shared publicly or among other publishers. The data collected will be aggregated via this survey and create charts and graphics showing our overall reach throughout the state. No publisher will see any other publisher's individual information except in the final aggregated format.
Completing this survey is in the best interests of all of us. It will help the MNPA in its ongoing legislative battle to keep public notices in newspapers.
You may complete separate surveys for each title you publish or group them together. If the latter, please provide the titles of each newspaper in the group.
The deadline to complete the survey is Thursday, June 15, 2023.
Note that several sections of this survey ask for county-by-county information. We are asking for this information in order to create an accurate statewide picture of newspapers' geographic coverage. If you have this information in a different format, such as by cities or zip codes, are you are not able to easily convert it to counties, please let us know.
If you have any questions or comments, please contact Robert Ambrogi, Esq., Executive Director, Massachusetts Newspaper Publishers Association by email at ambrogi@legaline.com or by phone at (978) 317-0972.