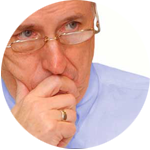 Ed Henninger, design
ED HENNINGER is an independent newspaper consultant and the director of Henninger Consulting.
Website: www.henningerconsulting.com
Phone: (803) 327-3322
WANT A FREE evaluation of your newspaper's design?
Just contact Ed: edh@henningerconsulting.com | (803) 327-3322
IF THIS COLUMN has been helpful, you might be interested in Ed's books: "Henninger on Design" and "101 Henninger Helpful Hints." With the help of Ed's books, you'll immediately have a better idea how to design for your readers. Find out more about "Henninger on Design" and "101 Henninger Helpful Hints" by visiting Ed's website: www.henningerconsulting.com
This month, we're taking a break from design thinking, design approaches, design instruction, design evaluation, design criticism … well, you get the idea.
Instead, we're gonna take a look at what I call "laugher headlines." Having written at least a few of them during my time on a copy desk years ago, I can understand how they happen. Some appear to have been written this way on purpose, with someone's tongue placed firmly in cheek. That doesn't make them any less funny.
Take a look:
Police begin campaign / to run down jaywalkers
Safety experts say school bus / passengers should be belted
Drunk gets nine months in violin case
Survivor of Siamese twins joins parents
Farmer bill dies in House
Iraqi head seeks arms
Stud tires out
Prostitutes appeal to Pope
Panda mating fails; veterinarian takes over
Soviet virgin lands / short of goal again
Eye drops off shelf
Teacher strikes idle kids
Reagan wins on budget, / but more lies ahead
Squad helps dog bite victim
Shot off woman's leg / helps Nicklaus to 66
Enraged cow injures farmer with ax
Plane too close to ground, crash probe told
Miners refuse to work after death
Juvenile court to try shooting defendant
Stolen painting found by tree
Two Soviet ships collide, one dies
2 sisters reunited after / 18 years in checkout counter
Killer sentenced to die for / second time in 10 years
Never withhold herpes infection from loved one
Drunken drivers paid $1000 in '84
War dims hope for peace
If strike isn't settled quickly, / it may last a while
Cold wave linked to temperatures
Enfiels couple slain; / Police suspect homicide
March planned for next August
Blind bishop appointed to See
Lingerie shipment hijacked — thief gives police the slip
L.A. voters approve urban renewal by landslide
Patient at death's door — doctors pull him through
Latin course to be canceled — no interest among students, et al.
Diaper market bottoms out
Croupiers on strike — management: "No big deal"
Stadium air conditioning fails — fans protest
Queen Mary having bottom scraped
Something went wrong / in jet crash, expert says
Henshaw offers rare opportunity to goose hunters
Women's movement called more broad-based
Antique stripper to display wares at store
Fund set up for beating victim's kin
Cancer Society honors Marlboro man
Nicaragua sets goal to wipe out literacy
Autos killing 110 a day — let's resolve to do better
20-year friendship ends at altar
Half of U.S. high schools require some study for graduation
Blind woman gets new kidney from dad she hasn't seen in years
Feel free to share all or any of these.