Forsyth County News publisher shares successes
By Matt Tota, Bulletin Staff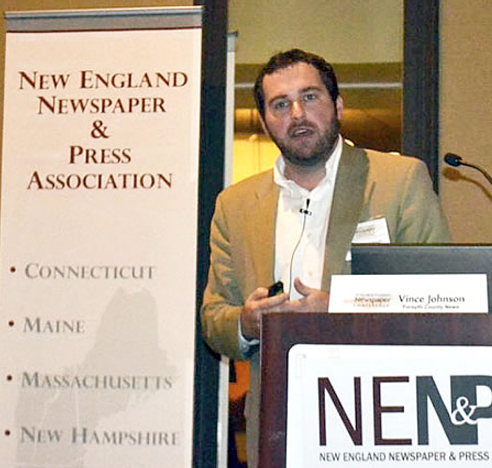 'We identify an advertiser that could be interested, then we develop a show based on that advertiser and pitch it. If they approve it, we move forward. It's very important to be driving revenue while we're producing this content.'
— Vince Johnson, Publisher,
Forsyth County News, Cumming, Ga.
Newsrooms should consider hiring a videographer to work on the kind of polished videos that will attract advertisers, according to Vince Johnson, publisher of the award-winning Forsyth County News.
Although reporters can usually handle a camera, it is essential to have at least one staff member solely for planning and editing, so the videos achieve "that next level of production," Johnson advised his audience at the New England Newspaper Conference Oct. 6.
Johnson was invited to the conference, held at the Crowne Plaza hotel in Natick, Mass., to talk about his success with the Forsyth County News, a 12,000-circulation triweekly newspaper in Cumming, Ga.
The Forsyth County News, which has 14 full-time employees, won the 2016 Mega-Innovation Award, presented at the Key Executives Mega-Conference hosted by the Inland Press Association, Local Media Association and the Southern Newspaper Publishers Association. The County News won the award for its adept use of social media and video production to market the paper and grow its presence in the community.
Johnson spearheaded the paper's transformation, in part by tying video to advertising. Before producing a new video, the paper finds a business to sponsor it, he said. Typically, the paper will create a "dummy video" or trailer to bring to advertisers first.
"We identify an advertiser that could be interested, then we develop a show based on that advertiser and pitch it," he said. "If they approve it, we move forward. It's very important to be driving revenue while we're producing this content."
The partnerships have allowed the Forsyth County News to create several popular online video shows, including a high school football training camp series inspired by HBO's "Hard Knocks" and one that spotlights the paper's top three stories for the week.
One of the first video shows the paper released was "Studio Forsyth," a magazine-style news show with two segments.
"It's a play for brand advertisers: your hospital, your chamber of commerce, your economic development board – people that really want to talk about the good news that's happening in the community," Johnson, whose background is in video production, said. "We don't include things like crime."
Other interesting advertising strategies that Johnson initiated include "Own the Day," a program where advertisers pay for a full-page print ad, select space on the paper's website all day, and a spot in its top stories email.
"You are the top advertiser for that day," he said.
Another factor in the paper's recent success has been its more frequent use of social media, Johnson said. When he arrived in 2014, he quickly did away with one of the paper's more antiquated social media rules.
"There was a rule at the Forsyth County News: Only one social media post per day – and it was always at 6 a.m.," he said. "We immediately changed that and helped grow our audience."
And he allows anyone on the newspaper's staff to post on its Facebook page.
"I don't think that it's a problem. We have rules about how to post," he said. "It's about letting everyone pitch in and help with the social media platforms."
The staff posts on Facebook about six to eight times a day, and the page has grown from about 1,000 followers when Johnson arrived to having more than 16,000 "likes" today, he said.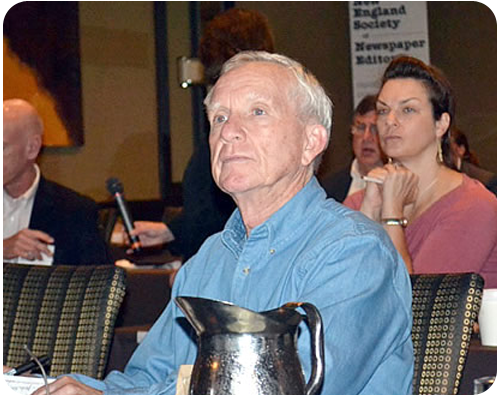 Members of the audience at Vince Johnson's speech.