By Rebecca Reeves, Bulletin Staff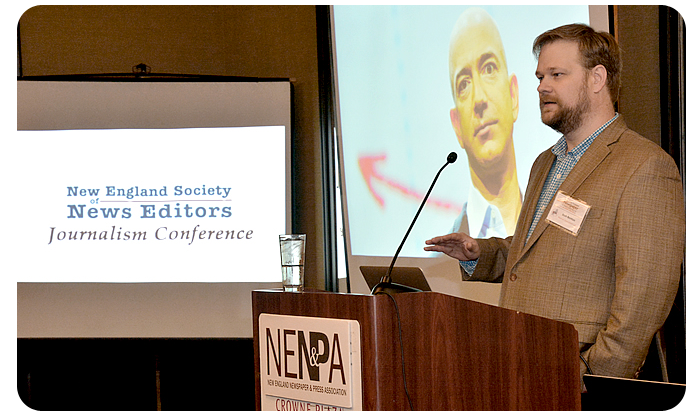 'If (Facebook can) have your attention for 50 minutes a day, they can suck up any part of the American economy they want to.'
–Joshua Benton, Director and founder
Nieman Journalism Lab
"People have been predicting the death of print for a long time, and it's been wrong every time," according to Joshua Benton, director and founder of the Nieman Journalism Lab at Harvard University.
Benton then examined some of the main reasons for that prediction, and ultimately concluded that the future of print journalism remains unknown.
To do that, Benton asked and attempted to answer five key questions at the New England Newspaper Conference Oct. 6:
• Will print advertising continue to be a sustainable source of revenue for newspapers?
• Will technology companies control everything in the news industry?
• Will digital advertising ever increase to a point where it will sustain the cost of producing news?
• What will be the next new technology development affecting news after mobile devices?
• Will broadcast news be as disrupted by technology as print was?
To answer the first question, Benton highlighted the decline print journalism has undergone in recent years, noting that instead of shutting down, most newspapers just keep shrinking. He noted that print advertising revenue is down to $15 billion from $65 billion in the past 10 years.
He also made note of Jeff Bezos, the billionaire owner of The Washington Post, as an example of a world in which wealthy investors with no experience in the news industry can buy a newspaper and be successful. Bezos' success has largely come from his ability to focus on the digital side of the Washington Post, rather than the print side. Benton said.
When tackling the question "Will technology companies control everything in the news industry?", Benton noted that eight of every 10 links to a new website comes from Facebook and Google. That shows how much control technology companies have already, he said.
Benton also commented on ways in which journalists are already responding to the rise in social media's influence in the news industry, using Facebook Live as an example. Facebook Live allows users to post live videos from anywhere in the world, and Benton said many news organizations have begun using it to connect more directly with their audience by posting brief videos several times a day.
Benton also noted the dominance Facebook already has, simply because of its ability to maintain the attention of the American people. According to Benton, on average Americans spend about 50 minutes a day on Facebook.
"If they have your attention for 50 minutes a day, they can suck up any part of the American economy they want to," he said.
On the third question, Benton provided examples of how digital advertising is improving. Benton said two resurgent technologies are on the rise to combat ad blockers and other means of hindering digital advertising: e-mail newsletters and podcasts. Benton said e-mail newsletters are a direct-to-consumer solution that help to "re-create the regular news consumption habit."
Regarding the fourth question, Benton said the news industry has spent too much attention on tablets, and not enough on smartphones. He said new and interesting news apps make phones a much more important resource for news companies than tablets and other technologies.
Benton also provided some examples of what might come after the mobile phone to revolutionize the way people get their news. He discussed Amazon Echo, a hands-free speaker that can be controlled by the user's voice, as well as its competitor, Google Home, a similar device.
To answer the fifth question, about broadcast news, Benton said radio has remained strong, giving NPR as an example.
Benton was pessimistic, though, about the future for television news. According to recent studies, younger Americans are more likely to want to read their news, not watch it, he said. That conflicts with conventional wisdom; according to Benton, although younger Americans want to watch videos for entertainment, they do not want to get their news in that format. Benton said the decline in the percentage of younger viewers of TV news combined with new alternatives to TV news such as Netflix and Sling, a service that allows customers to select which channels they like and to pay only for those, has led him to question the role of local TV news in the future.
Benton concluded by providing reasons for optimism and reasons for pessimism for today's news industry:
While the demand for media continues to grow and social media technology allows news companies to target their audience better, the rise of Facebook and Google and the lack of a new business model spell danger for the mainstream news industry.
Benton's talk was presented at the New England Society of News Editors Journalism Conference during the daylong New England Newspaper Conference. The conference was held in the Crowne Plaza hotel in Natick, Mass.