By Alejandro Serrano,
Bulletin Correspondent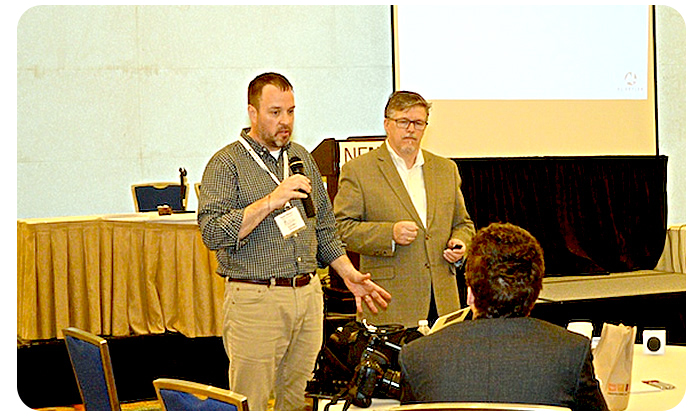 This year is definitely the year of video for news organizations, according to Al Getler, former publisher of The Burlington (Vt.) Free Press.
What is so convincing?
The amount of time per week that people spend watching video surpassed the amount of time people spend on social media and increased by more than a minute from 2011 to 2015, according to statistics Getler presented at a workshop at the New England Newspaper and Press Association's winter convention.
"You have to add video to your mix," he said.
Getler, accompanied by Ryan Mercer, visuals coach and photo and video editor at the Free Press, discussed how news organizations can integrate a video strategy into their coverage and how to get past not wanting change in a newsroom.
Mercer, a five-time Edward R. Murrow Award recipient, demonstrated how he uses his phone to live-stream a news scene – if not setting up a tripod for his phone, then attaching his phone to the top of his DSLR camera when he is on assignment – with tools, such as an iPhone, that journalists are familiar with and accessories varying in prices for different newsrooms.
Keeping video in mind when covering something enables Mercer, and the Free Press, to do Facebook Live streaming video coverage and then have a plethora of footage to cut – from the live stream and from his other cameras — into a more polished video to upload with the story or as a story itself, adding details that can't always be captured in text.
Mercer discussed a video of an off-duty police officer who fatally shot a man last fall in Winooski, Vt. Mercer used only footage from the body camera the officer was wearing. He blurred out the actual shooting.
Mercer said that at the time questions arose about both the officer and the man shot, and that the video helped clear up some of the questions. A debate developed about whether the officer had to shoot the suspect. Friends of the suspect said he didn't carry a weapon. Police were initially reluctant to release the video, which led to more questions than answers until it was released. The officer was off-duty and was an officer from another county, so some people were angry that he was at the scene. The video demonstrated that the officer had been called in and that the suspect approached the officer with one hand behind his back, after the officer asked him to put his hands in sight, in the instant before the shooting.
Mercer said of the editorial decision to run the video as it was, with only partial censoring: "(W)e thought (it was) really, really important to get the context and facts straight. As unpleasant as this was to watch, without seeing all that in one package you are not getting all the facts you need to properly digest all that information."
Getler said other newsroom departments can make use of video too. Sports can capture moments of action and crowd reactions, and government meetings can be broadcast as breaking news, especially when the video features an impromptu speech by an elected official.
Video increases the amount of content people consume from a news outlet, and can tell a story in a nonlinear way, and sometimes video-first stories can lead to interesting text stories that make use of the video package, Getler said.
Getler and Mercer said one of the greatest advantages to incorporating a video strategy is the convenience and quickness with which it can give a news outlet a leg up over others. And doing so breaks newsrooms out of the habit of not risking anything.
"It helps you compete with people you otherwise wouldn't," Getler said. "It's your job to own your news and break it and get out there before the competition does."
About 20 people attended the workshop on "Adding a video strategy" Saturday, Feb. 25, in the Boston Marriott Long Wharf hotel.
(To see a video of the "Adding a video strategy" on the New England Newspaper and Press Association's Facebook page under that title, please click here.)