By Bailey Knecht,
Bulletin Correspondent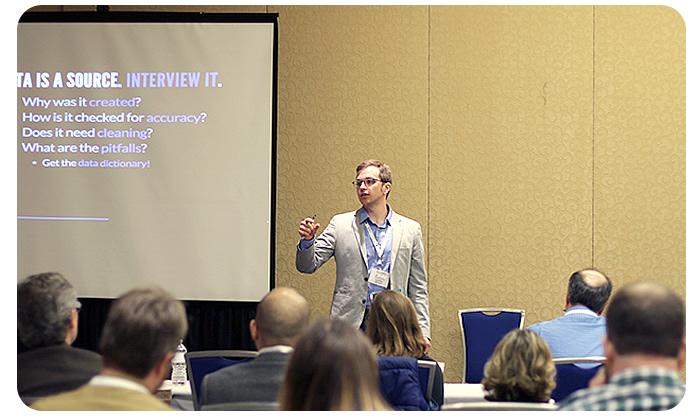 'Data journalism doesn't always have to be about fancy visualizations or really complicated math or sort of impenetrable science. A lot of times it can be just about very simple questions.'
—Tyler Dukes, Investigative reporter
WRAL News, Raleigh, N.C.
On both the local and national news levels, data journalism can be a useful tool for reporters in combatting suppression of information and gaining credibility among readers, according to Tyler Dukes, an investigative reporter at WRAL News, a television station in Raleigh, N.C.
"I think what we're seeing right now is essentially an unprecedented assault on our quest for the truth, and that's something that's elusive enough without us being called enemies of the American people," he said. "What I think is required is for us to really try to repel this assault with every weapon at our disposal, and that includes weaving data into stories we tell every day."
Dukes spoke to an audience of about 40 people Saturday, Feb. 25, in a presentation titled "Peril and promise: Journalism in the age of data" at the New England Newspaper and Press Association winter convention in the Boston Marriott Long Wharf hotel.
Dukes emphasized the effectiveness of data journalism, even in the most basic of forms.
"Data journalism doesn't always have to be about fancy visualizations or really complicated math or sort of impenetrable science," he said. "A lot of times it can be just about very simple questions."
News organizations can employ data journalism in a variety of areas, Dukes said. He said compiling statistics about issues such as restaurant cleanliness or racial profiling in traffic stops could be powerful uses of data journalism.
He then listed the various ways journalists can go about obtaining data. They can either request it as a public record from government agencies — such as animal shelter records and public health inspections — or gather and organize it themselves — such as building permits and contracts for school superintendents.
Dukes also recommended taking advantage of the data collected and using it for multiple stories.
"If you invest in this reporting, make it live longer than one story, and make it pop up in all these other places that provide content," he said. "You have spent the money and the resources and the bodies to come to a number, to come to a figure. Use it, and use it often."
Analyzing data with a critical eye is also crucial, particularly if that data was collected by outside sources such as government agencies, Dukes said.
"Interview your data, and treat it as a source," he said. "What that means is to apply the same sort of verification steps as you would with any other source. Ask why the data was created in the first place."
He cautioned audience members against putting all their faith in data.
"One thing that's really important to remember is that data has limits," he said. "It's really important when we're going about the work of data journalism that we know that just because it's a number doesn't mean it's the truth."
In his key takeaways, Dukes emphasized transparency in the data-collecting process and suggested that reporters thoroughly explain their work.
"You really want to make sure that you're demonstrating to your audience, as a matter of trust, how you got to that figure, even if it's fairly simple," he said.
Dukes emphasized that solid data journalism has the power to have a lasting effect, particularly on the government and public officials.
"Good data leads to good public policy, and without that good data we can't make good public policy," he said.
NEWS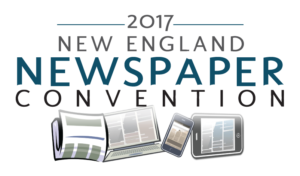 'Interview your data, and treat it as a source. What that means is to apply the same sort of verification steps as you would with any other source. Ask why the data was created in the first place.'
—Tyler Dukes
'Good data leads to good public policy, and without that good data we can't make good public policy.'
—Tyler Dukes