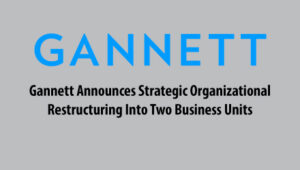 MCLEAN, Va.– Gannett Co., Inc. announced on June 1 a strategic organizational restructuring with the creation of two new U.S. operating business units, Gannett Media and Digital Marketing Solutions (DMS), which will be led by Maribel Perez Wadsworth and Kris Barton as Presidents of each business respectively. The evolved corporate structure is designed to align Gannett's subject matter expertise and resources with favorable growth opportunities.
"This reorganization ensures our consumer and B2B businesses are strategically optimized for our next stage of growth with incredibly experienced leadership at the helm while championing our culture of inclusion and driving our long-term goals for sustainable revenue and cash flow growth," said Michael Reed, Gannett Chairman and Chief Executive Officer. "Improving the efficiency of our operations will enable the acceleration of Gannett's digital future as a data and technology subscription-led business."
As President of Gannett Media, Wadsworth will oversee an expansive organization that prioritizes content, news, business-to-business (B2B) and commitment to subscribers while continuing to accelerate Gannett's digital subscriber growth. She and her team will focus on the subscriber journey, ensuring customer satisfaction and attracting new audiences by optimizing the legacy business to drive print stabilization and digital growth for the media organization with a digital-first lens on all efforts.
As President of Digital Marketing Solutions, Barton brings a unique mix of business, design and technical acumen to the position. He is dedicated to growing DMS offerings as a differentiated marketing platform. He and his team will further the transformation of the DMS business to ensure loyalty from existing customers who value the platform while attracting new customers to engage with the available digital solutions. This includes building a complementary business model with streamlined, do-it-yourself SaaS offerings for new customer segments.