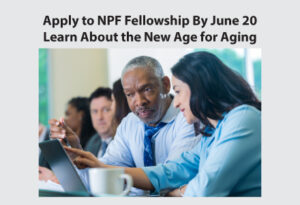 By 2034, for the first time ever, the United States will be home to more older adults than children. One in five people will be over 65 years old. Although American life expectancy dropped during the pandemic, millions more older Americans are working and living active lives for far longer.
For journalists, covering the 65-plus set no longer means focusing on assisted living and failing health. Still, older adults are often undervalued by society and underrepresented in media coverage and images due to a range of factors – including outdated stereotypes and biases.
To help journalists cover the realities of older adulthood and federal aging policy in 2022 and beyond, the National Press Foundation will offer an all-expenses-paid three-day fellowship, Living Longer: A New Age of Aging, in Washington D.C., Sept. 18-20, 2022.
The application deadline is June 20.
This competitive fellowship is open to U.S.-based reporters and editors working in print, television, radio, or online media. We greatly value diversity in all our programs and applicants from across the nation are encouraged to apply. The foundation will cover airfare, hotel, transportation to the airport, and most meals.
Applicants must submit a letter from their supervisors saying they will be permitted to attend all sessions.  At the request of other parties, during the program, fellows must be willing to use the CLEAR Heath Pass to verify that they have received COVID-19 vaccinations. (The app's privacy policies are here.) We will follow District of Columbia public health guidance and masking or rapid-testing may also be required.
This fellowship is sponsored by AARP. National Press Foundation is solely responsible for programming and content.