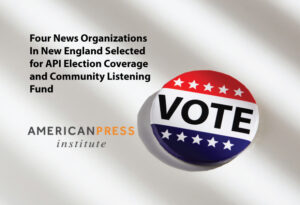 Thirty-one news organizations will receive support through the American Press Institute's Election Coverage & Community Listening Fund, an initiative to empower newsrooms to implement community listening in their election coverage.
Four of the organizations are in New England:
Connecticut Public Broadcasting (Hartford, Connecticut) will use the grant to support its toolkit designed to encourage watch/listening parties across the state during candidate debates this fall, which it is producing in collaboration with the League of Women Voters as part of an initiative aimed at advancing civil discourse through journalism and storytelling.
ecoRI News (Providence, Rhode Island) will partner with three local newsrooms to cover state and local elections through the lens of marginalized communities, especially non-voters. This will include community listening and a solutions journalism approach as well as interviews with candidates about their responses to the communities' concerns. Content will be produced in English, Spanish and Portuguese.
VTDigger (Burlington/Montpelier, Vermont) will update, design and translate its "How to Vote" explainer. Informed by a listening project that made deliberate efforts to hear from historically excluded communities, the guide is available in a print-friendly Google document in more than a dozen languages. The resource will be distributed via local community ambassadors to Northwestern Vermont's multilingual communities where there is a strong demand for news in other languages besides English.
WBUR (Boston, Massachusetts) will create a 2022 Massachusetts Election Guide with its partner Govpack aimed at providing basic election and candidate data, including candidate profiles for communities across the state. It will market the guide, with a special focus on Hispanic and Latinx communities, through both traditional and non-traditional methods.
The projects funded will start immediately and run through this election year, but will also yield important lessons for 2023 and 2024 that can be shared through journalism networks and conversations facilitated by API.
The funding made possible through this initiative is designed to help these news organizations try new approaches to election coverage or expand on existing projects that show promise.
Read more and see the complete list of news organizations funded