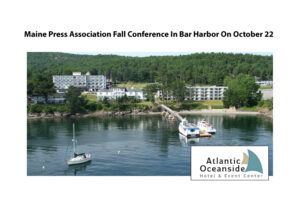 The Maine Press Association's 2022 Fall Conference will be held on October 22 at the Atlantic Oceanside Hotel & Event Center in Bar Harbor.
A full day of events is planned, including informative sessions, The Hall of Fame Induction Luncheon with 2022 inductees, Earl Brechlin and Chris & Paula Roberts and 2021 inductees Dorothy "Dot" Roderick, Dieter Bradbury, and Judy Meyer; the annual Scholarship Auction & Reception with Auctioneer Extraordinaire Aimsel Ponti, and the 2019 Better Newspaper Awards Dinner & Banquet with Master of (All) Ceremonies Greg Rec.
Conference Hotel Room Information & Reservations ($165) for Oct. 21-22 must be made directly with the hotel. Please call the Atlantic Oceanside reservations office at 800-336-2463 to reserve your room and identify yourself as part of the MPA, Group # 65279. Reservations may also be made online: www.aobarharbor.com. Hotel reservations are going fast so book your room as soon as possible.
There is no registration fee for Hall of Fame inductees or guests and the registration fee covers all workshops/sessions, Scholarship Auction, and Awards Dinner & Banquet.