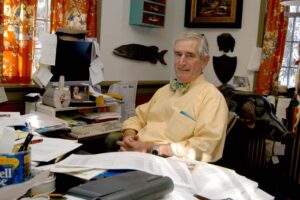 The Smith family announces with sadness the passing of R. Scudder Smith on August 14, 2022. He was 87 years old.
Born on April 12, 1935, Robert Scudder Smith was the elder son of Paul Scudder Smith and Mary Starr Conger Smith, and older brother to Mary Starr Adams and Ted Smith.
He attended his father's alma mater, Amherst College, briefly, in 1953, but in 1954, he enlisted for three years with the United States Marine Corps, and trained as a navigator at Cherry Point, N.C. On a night out with a friend he met Helen Willis. They were married in 1956, and settled the following year in upstate New York, where he began attending Union College in Schenectady, N.Y.
Scudder's family has owned Bee Publishing Company Inc and published The Newtown Bee for 141 of its 145 years.
Scudder worked at the paper beginning in 1961; he succeeded his father Paul as editor in 1972.
On June 28, 2022 — the 145th anniversary of the first issue of The Newtown Bee's publication — local luminaries, including Newtown's First Selectman, Newtown's delegation to the Connecticut Legislature, both of Connecticut's US Senators, and the Fifth District US Congresswoman honored The Newtown Bee for its longevity, and celebrated Scudder and his family's love for and dedication to the community.
Scudder's passion for antiques manifested in The Newtown Bee sister paper, Antiques and The Arts Weekly, which he founded in June 1963 and began as four pages of antiques coverage in the local newspaper. Then, as now, the paper each week was finished and printed by midday Thursday, with the following day's date. As written by Laura Beach for A&A — as the staff and many readers refer to it — in March 2006, "After finishing his editorial chores on Thursday, Scudder spent Fridays pounding on doors, talking to dealers and auctioneers and selling ads for the next antiques section."
Scudder is survived by Helen, his wife of 66 years; son, David Smith, and daughter and son-in-law, Sherri Smith Baggett and Scott Baggett; grandsons Benjamin and Gregory Smith and their spouses, and Scudder and Judd Baggett and their spouses; and six great-grandchildren, as well as generations of friends and colleagues both local and around the world.
In lieu of flowers, please consider making a donation in his honor to one of the following organizations: Newtown Scholarship Association (PO Box 302, Newtown CT 06470 or NewtownScholarship.org); Town of Newtown Animal Control (21 Old Farm Road, Newtown CT 06470), or FAITH Food Pantry (PO Box 53, Newtown CT 06470 or newtownfoodpantry.org).
By Madelia Ring & John Voket