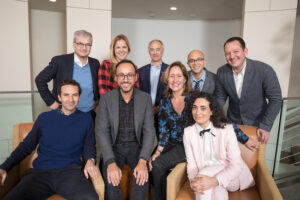 The Joan Shorenstein Fellowship Program is designed to bring journalists, scholars, politicians and policymakers to the Shorenstein Center for a semester to work on a project with a tangible output, and engage with students, faculty, other fellows, and the broader Harvard Kennedy School community. Applications for the Spring 2023 semester are now open through September 7.
Fellows are expected to be fully-participating members of the Shorenstein Center community while in residence, attending and participating in Center events, social gatherings, and other activities.
Alumni fellows join the Shorenstein Center's Alumni Fellows Network, to stay connected with the Center and the large and growing group of former fellows all around the world.
Mid-to-late career professionals from a variety of related fields are welcome to apply. Past fellows include journalists from local, national and international TV, radio, print, and digital media; media and civic technology innovators; nonfiction authors; political advisors and policymakers; leading academic scholars in fields such as media research and political science; and policy analysts.
The Shorenstein Center is committed to diversity, and actively encourages applications from all demographic backgrounds, and across the political spectrum.
Joan Shorenstein Fellowship and Application