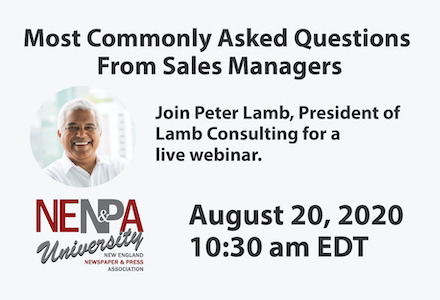 When:
August 20, 2020 @ 10:30 am – 11:30 am
2020-08-20T10:30:00-04:00
2020-08-20T11:30:00-04:00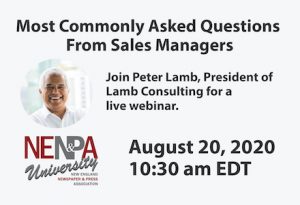 In this webinar:
This session is geared towards publishers, revenue officers and ad directors. It will explore some of the most commonly asked questions from sales managers around the world:
– What should my Monday morning meeting format be?
– How much time should I spend in the field?
– Should I close the sale for the rep? Let them sink?
– What contests should I use?
– How do I build a winning team?
– What is the MODEL week for me?
We will also discuss what the best sales managers around the world do….EVERY DAY….. to guarantee their success. What is the NEW-NEW revenue, the methodology of new products and making riches from niches.
Presented by NENPA University and Peter Lamb, President of Lamb Consulting.
About our presenter:
Born in Cape Town, South Africa, Peter Lamb is a Strategy Consultant, now living in Miami, Florida, and specializing in media companies. "The goal of my consulting practice is to utilize the sophisticated strategic marketing principles and techniques, learned while doing my MBA at Harvard Business School, meshing them with a hands-on sales approach, to generate new revenue streams for publications and websites. ROI is achieved by focusing on NEW-NEW revenue … from customers that have never used our products before: print or online."