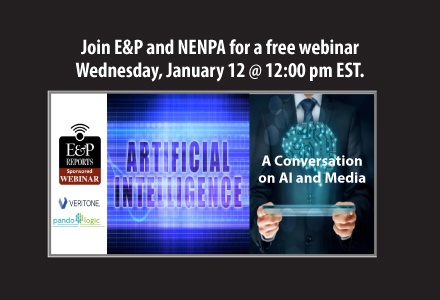 When:
January 12, 2022 @ 12:00 pm – 1:00 pm
2022-01-12T12:00:00-05:00
2022-01-12T13:00:00-05:00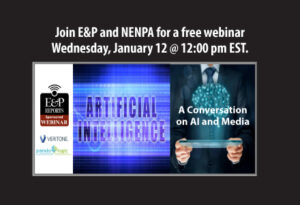 On Wednesday, Jan. 12, at Noon (ET) join media professionals to learn how modern AI (artificial intelligence) can improve your business, help create new revenue streams, increase site traffic, and measure and run effective audio & influencer campaigns to boost revenue with their content.
Every challenging time in our history has been followed by an era of innovation. As the shadow of an unpredictable labor market looms overhead, professionals have turned to technology to pave a new way forward. Powerful AI is spearheading our era of innovation. For years, the media and publishing industries have flourished with AI at the helm of their business strategies. And the same can be done for local publishers.
Register for this FREE "E&P Reports" Sponsored Webinar that will reveal:
The advantages of adding an AI-Enabled Job Board to your site given the state of today's labor market
A "real world" case study on the Media Job Board & its success in increasing traffic and maximizing revenue for Poynter, E&P, and America's Newspapers
How to automate AI-generated insights to enable fast discoverability, optimize campaigns and maximize revenue
How Media can leverage AI for podcasts
A "real world" case study on Sounds Profitable and their success in using AI to measure and run audio & boost revenue
Save your spot and register now!