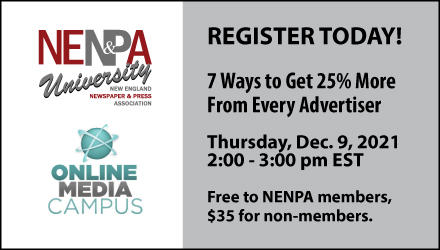 When:
December 9, 2021 @ 2:00 pm – 3:00 pm
2021-12-09T14:00:00-05:00
2021-12-09T15:00:00-05:00
Cost:
$35, free to NENPA members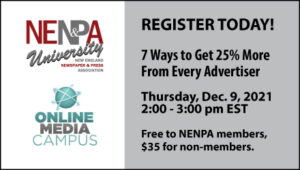 This is an Online Media Campus NENPA U webinar. Members, please contact Tara Cleary at t.cleary@nenpa.com for the free registration code.
In this webinar:
We've all heard it before… No budget. Or, we are moving in a different direction. So, how do you sell past these objections and get more ad dollars than ever before? Compare, consult and conquer! Ad sales advisor Ryan Dohrn will show you a daring and inventive way to ethically share what competitive advertisers are doing in the market to draw out money from those reluctant advertisers that give us the same lame excuses. COMPARE them to others in their category that are doing great. CONSULT with them on how to be bigger and better. Then, CONQUER the close by showing the advertiser how to dominate the companies they hate most… their competition. This is an advanced selling workshop that has received 5 stars from over 1,000 salespeople.
About Ryan Dohrn:
Ryan Dohrn is a top motivational speaker that won an Emmy for marketing excellence while working for ABC TV/Walt Disney Co. and was recognized by Forbes.com with the "Best of the Web" award for his business strategies. Dohrn's focus is on leadership training and team performance development. His passion for sales and marketing has given him the unique opportunity to touch half a billion dollars in revenue for companies in 7 countries. Ryan was one of the youngest managers in Walt Disney history. His management insights have been featured in USA Today and on CNN. Ryan is an internationally certified business coach, has trained over 30,000 professionals, and works monthly with companies in 15 business sectors.