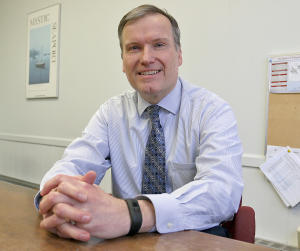 'There is a value to good copy editing, now more than ever. If your copy is not clean, it raises doubts in the reader's mind. 'If they can't spell this correctly, or if the style is inconsistent throughout a story, is their story inconsistent?' In this highly charged political environment, you don't want to have people questioning your facts.'
— Charlie St. Amand,
Secretary,
New England Society of News Editors

2018 NENPA Winter Convention
Don't let sloppy copy get in the way
of a good story: Be your own copy editor
 By Rebekah Patton
Bulletin Correspondent
With the political hype on fake news, accuracy and attention to detail might be more crucial now than they have ever been.
Yet copy editor jobs in newsrooms are dwindling and becoming an "endangered species in New England," Charlie St. Amand, secretary of the New England Society of News Editors (NESNE), said. So the responsibility of copy editing more and more is trickling down to reporters themselves.
That's why this year, at the New England Newspaper and Press Association winter convention, a session titled "How to be your own copy editor" will be held to share practical information and give reporters a greater awareness of their role in maintaining the credibility of their copy.
The convention is scheduled for Friday, Feb. 23, and Saturday, Feb. 24, at the Renaissance Boston Waterfront Hotel in South Boston.
St. Amand said in a telephone interview that the idea for a copy editing session surfaced at several NESNE meetings. The idea of reporters enhancing their copy editing skills is a relevant and timely one in New England. There are fewer copy editors in newsrooms because the task of page pagination, which was once done by local copy editors, has been moved in some cases to larger corporate design hubs to save money.
"They moved a lot of it (the page pagination process) to places where they can do it cheaper, so there is less at local sites," St. Amand said. "Newsrooms have also just gotten smaller, period."
St. Amand discussed Gatehouse Media's corporate ownership of newspapers, and its main design hub in Austin, Texas.
"This system means that there is more room for spelling errors, not in the sense of words, but in the sense of road names and people's names," he said.
For example, a copy editor in Austin would not necessarily know that a Massachusetts small town's familiar restaurant owner's last name is Johnson not Jonson, and would not be able to correct the misspelling. Local readers might catch the error and react negatively to the story.
"Reporters will benefit from realizing the importance of fact checking and spell checking,"  St. Amand said.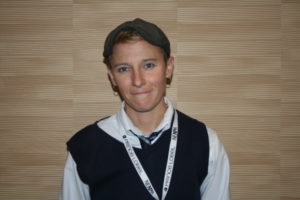 St. Amand said the session will highlight the importance of reporters as "another line of defense along the production cycle to make sure their copy is solid," and to feel confident in submitting clean copy to their editors.
Learning how to write a compelling headline and getting a good handle on Associated Press style are two of the ways St. Amand said reporters should develop copy editing skills to produce clean copy. Grammar and correct word use are crucial in conveying a credible message.
"I have received calls (from readers) before when a word is misspelled or misused, for example when the word 'dispersed' was published instead of the correct word 'disbursed,'" St. Amand said. "Incorrect usage of words questions the consistency of the story."
Having taught a copy editing course at Suffolk University for the past 12 years, St. Amand thinks that it is beneficial for students to have that knowledge as future reporters, and that current reporters could use copy editing techniques in their skill toolboxes, too. He said that another NESNE board member had recently hired students from prestigious schools, and was shocked at how the students weren't aware of copy editing tasks.
The target audience of the convention includes reporters from all experience levels, especially those who have never had copy editing courses in college.
'Writing and posting (your) own breaking news is risky, so it's important that reporters can self-edit.'
— Charlie St. Amand
St. Amand has been a NESNE board member since October 2016, and became NESNE's secretary a year later.
St. Amand is organizing and moderating the session. Emily Sweeney, staff reporter of The Boston Globe and a NESNE board member, is one of the panelists. Although the other panelists have not been finalized yet, NENPA is hoping to recruit editors from The Day of New London, Conn., The Sun of Lowell, Mass., and Gatehouse Media New England, the region's largest newspaper chain.
Sweeney works in the early hours of the morning, when there might not be anyone else in the newsroom. In some instances, the immediacy of the news overrides getting a second set of eyes to read through a piece before it is published.
"Writing and posting (your) own breaking news is risky, so it's important that reporters can self-edit," St. Amand said.
He also mentioned how that responsibility can spread to other reporters, not just those like Sweeney, when the early morning reporters go on vacation and need to be replaced.
Publishing clean copy is essential, especially today when facts are being scrutinized so closely. Something as simple as a misspelled word or confusion about verb tense could slide by the eyes of an editor when preparing a piece for publication. When the audience reads the error, it diminishes the validity of the piece and the hard work of the reporter. A valuable story might have been written, but when it is disorganized or riddled with inconsistencies, the clarity and value are put at risk.
"There is a value to good copy editing, now more than ever," St. Amand said. "If your copy is not clean, it raises doubts in the reader's mind. 'If they can't spell this correctly, or if the style is inconsistent throughout a story, is their story inconsistent?' In this highly charged political environment, you don't want to have people questioning your facts."