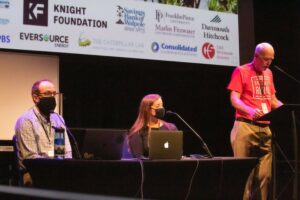 Discounts to Radically Rural's Community Journalism program in Keene, N.H., are available as a NENPA membership benefit. This year's programming focuses on the challenges journalists face covering splintered communities and the issues that divide us.
NENPA members can register to attend Radically Rural for $129 in person – a savings of $30; or $49 online, a savings of $20. Use the promo code NENPA for a member-only discount or contact Terrence L. Williams, Keene Sentinel President & COO, at twilliams@keenesentinel.com.
Sept. 21 I 1:30 p.m. – 3:00 p.m.
Covering the Divide: An exploration of how news organizations can better serve communities that are split over politics, the pandemic, guns, policing, voting, abortion, and more.
Moderator – Jim Iovino is Ogden Newspaper's Visiting Professor of Media Innovation at West Virginia University. He runs the Reed College of Media's NewStart Newspaper Ownership Initiative, a program that focuses on recruiting, training, and supporting the next generation of community newspaper owners and publishers.
Panelists – Tony Baranowski, manager of special projects, The Gazette, Cedar Rapids, Iowa, and Sara Konrad Baranowski, editor, the Iowa Falls Times Citizen, Iowa. Peter Huoppi, director, multimedia, The Day, New London, CT, and co-producer of the documentary, "Those People."
Sept. 21 I 3:30 p.m. – 5:00 p.m.
Better Judgment: How innovative newsrooms are changing their coverage of cops, courts, climate, and other intersections of justice to provide fairer, more equitable news reporting.
Moderator – Cierra Hinton, publisher, Scalawag. Hinton has an undying love and passion for the complicated South, which she brings to Scalawag where she oversees operations and planning. According to its mission, through journalism and storytelling, Scalawag works in solidarity with oppressed communities in the South to disrupt and shift the narratives that keep power and wealth in the hands of the few.
Panelists – Paul Cuno-Booth, freelance journalist and reporter on several alternative justice projects in New Hampshire. Molly Born, West Virginia multimedia producer and educator, now documenting West Virginia's history and future. 
Sept. 22 I 2:00 p.m.  – 3:30 p.m.
Crazy Good – 50 ideas to make you a better journalist
Presenter: Jeremy Caplan, director of teaching and learning at City University of New York Newmark Graduate School of Journalism. Caplan teaches classes, workshops, and webinars on entrepreneurial and digital journalism. He is a former Ford Fellow in Entrepreneurial Journalism at the Poynter Institute, a Wiegers Fellow at Columbia Business School, where he earned his MBA, and Knight-Bagehot Fellow at Columbia Journalism School, where he earned a master's degree in journalism.
Radically Rural is a partnership between The Keene Sentinel and the Hannah Grimes Center for Entrepreneurship. The summit features tracks in community journalism, arts and culture, lands and community, downtowns, clean energy, healthcare and entrepreneurship. For more information on the Radically Rural summit and to purchase tickets, visit the event's website at www.radicallyrural.org.