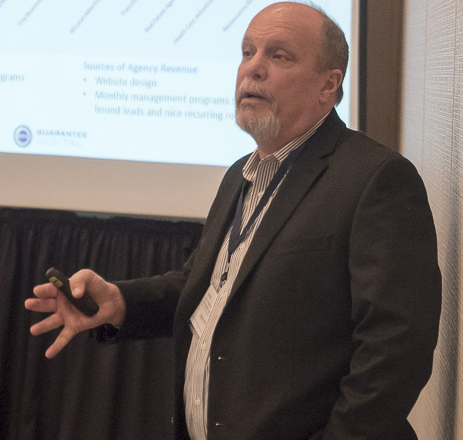 Digital marketing services can help
newspapers help their advertising clients
By Alastair Pike
Bulletin Correspondent
Facebook and Google are projected to have captured more than 60 percent of all U.S. digital advertising spending in 2017, according to eMarketer. But the digital marketing professionals who were panelists at a discussion at the recent New England Newspaper and Press Association winter convention think that there are still opportunities for marketing agencies to help businesses generate more revenue with advertising and marketing.
"There's a lot of dollars going to digital; that's no surprise. One of the things that we keep hearing from our friends at Google and Facebook is the share that they're getting of those dollars," said Daryl Hively, founder and chief executive officer of a Hartland, Wisc.-based digital marketing agency, Guarantee Digital. "And the good news is, we can get our piece of that action. We can help our advertisers facilitate how they're spending their money on Google and Facebook."
The advice was given at a panel discussion moderated by Tim Brady, director of advertising at the Concord (N.H.) Monitor. The discussion was titled "Digital marketing services – are you offering them to your clients?"
The goal of the discussion was to help newspaper advertising departments to establish digital marketing services as part of their offerings to advertising clients, or to improve such services if they're already established. Those services include helping clients build websites, post on social media, and market on Google or Facebook.
Google and Facebook have gained their large shares of digital ads by Google's targeting of ads to readers based on their search history and Facebook's tailoring of relevant ads to users based on demographics, from job title to relationship status.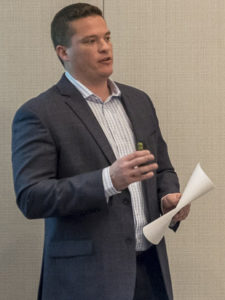 One challenge with their dominance is that when "Facebook says this, Google says this. And then you have to change the entire way you sell," said Greg Ryan, another panelist and senior vice president of a Quincy, Mass.-based digital marketing agency, ThriveHive.
Despite that dominance, the panelists advised how to take advantage of the very tools that Google and Facebook provide.
"It's all free stuff. There's so much free data out there," Ryan said about Google Trends, a tool that shows what search terms are entered and the relevant statistics that enable businesses to market their brand and products better.
Another tool is Google's listings, where businesses can have their information posted so that their restaurant or store would show up in a Google search or on Google maps.
"Job one is making sure they're making a good impression, and they're getting found online," Hively said about the businesses that marketing agencies serve. "So we talk about those mobile-friendly websites, and making sure their Google business listings are taken care of."
Hively added a tip: "Avoid penalties from Google. These days if these businesses don't have a mobile-friendly site, they're going to get pushed farther back in search."
He said digital marketing agencies should help businesses "tell their story" with content and have a consistent message across all platforms. That could mean placing a sponsored article in a print newspaper or a video ad on a news outlet's home page, all with a clear, cohesive message about the business.
Ryan, whose agency he helped establish and which now has five locations in the United States, advised that digital marketing agencies should focus on their customer service and not price when attracting new clients and brands.
"Sell them on service. Some of you are probably staying in a hotel here. Why aren't you staying at the $49 economy lodge down the street? Because of service," Ryan said. "This hotel's like Four Seasons, this hotel's like this. It's about service. I want to feel good. I want to be asked how my morning went. Think about that; it's not price."
Hively also shared hiring tips on hiring for an effective digital marketing agency.
"You don't need to hire the smartest person who knows social media backwards and forwards but can't actually go out and talk to a shop owner in terms that they understand," Hively said. "Hire for attitude. Hire for hustle. Those are the ones that are going to end up working for you for the long term."
The panel discussion, took place Friday, Feb. 23, at the Renaissance Boston Waterfront Hotel in Boston.
'You don't need to hire the smartest person who knows social media backwards and forwards but can't actually go out and talk to a shop owner in terms that they understand. Hire for attitude. Hire for hustle. Those are the ones that are going to end up working for you for the long term.'
— Daryl Hively