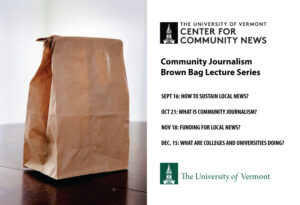 The University of Vermont Center for Community News has developed a free Community Journalism Brown Bag Lecture Series featuring virtual national conversations with leading researchers, stakeholders, and teachers once a month beginning September 16.
The Center is also conducting a national survey of colleges and universities that are collaborating with local media outlets. If you are involved in a local media collaboration they are looking for your participation in the survey. The results will be released in the December lecture. Please fill out the survey here.
Register here for the Community Journalism Brown Bag Series and they will send you a link. The Brown bags are all at noon, on Sept 16, Oct 21, Nov. 18, and Thursday, Dec. 15.  If only interested in one, let them know. The full list is here https://www.uvm.edu/ccn/events.
SEPT 16: HOW TO SUSTAIN LOCAL NEWS? (Noon)
What are some of the innovative for-profit and public funding models? Moderated by Erica Beshears Perel, Director, Center for Innovation and Sustainability in Local Media at the UNC Hussman School of Journalism and Media. Here we explore some private and public funding approaches. Mike Rispoli is the Senior Director of Journalism Policy at the Free Press/Free Press Action Fund recently helped win $3 million in public funding for news outlets in New Jersey and Michael Shapiro, the founder of TAPinto, a for-profit franchise model for local news, that presently has a network of 86 local news sites in New Jersey (as well as sites in PA, Fl, and NY). 
OCT 21: WHAT IS COMMUNITY JOURNALISM? (Noon)
A conversation with Andrea Wentzel, the author of "Community Centered Journalism" and Nikki Usher, the author of "News for the Rich, White and Blue." A discussion of what we mean by community journalism, who it is for, and who is involved in the production and dissemination of news. This conversation is moderated by Traci Griffith, professor emeritus of Media Studies at St. Micheal's College and the current racial justice director for ACLU Massachusetts. 
NOV 18: FUNDING FOR LOCAL NEWS? (Noon)
A lack of local news undercuts democracy, reduces citizen engagement, and leads to greater polarization. One recent report finds we are losing two community newspapers a week. What is the role of philanthropy in addressing the crisis? What is the role of public funding? Moderated by Meg Little Reilly, the Communications Director at the Convergence Center for Policy Resolution. In this panel, we hear from Duc Luu, the Director of Sustainability Initiatives/Journalism at the Knight Foundation, Todd Franko, the director of local sustainability and development for Report for America, and Rep. Ann Kirkpatrick (D-Az) the champion of the Local Journalism Sustainability Act (invited). 
DEC. 15: WHAT ARE COLLEGES AND UNIVERSITIES DOING?
Lara Salahi, of Endicott College, and Christina Smith, of Georgia College, conduct research on these collaborations. Salahi, an award-winning journalist, started a partnership at Endicott College and Smith worked for 13 years as a community newspaper reporter and is now a weekly newspaper scholar. Also joining Salahi and Smith is Teri Finneman, from the University of Kansas and founder of the Eudora Times partnership, who has written about them with two co-researchers, and Mark Berkey-Gerard, from Rowan University, who has identified more than a hundred news-academic collaborations partnerships in the U.S. and conducted surveys and interviews on key benefits and challenges. CCN Director Richard Watts will moderate. 
The lecture series is sponsored by the Community Journalism Interest Group of AEJMC and the Center for Community News at the University of Vermont.