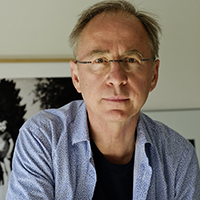 Bob Sacha is a director, cinematographer, editor, teacher, photographer and, above all, a collaborator on visual journalism projects. He has created video for projects that have won the Pulitzer Prize, a National Emmy for New Approaches to News and Documentary Programming,  a Webby and the first gold medal ever given by the Society for News Design. He was the director of photography for the New York TImes series, Living City, about  New York's infrastructure. BlindSight, a documentary short about a group of blind photographers that he directed and shot, had its world premiere at DOCNYC, the country's largest documentary festival.
He was recently named an Associate Professor for Video Storytelling at the Craig Newmark Graduate School of Journalism at the City University of New York, where for four years straight he received the Tow Foundation Grant for "teachers who have demonstrated exceptional leadership in their fields."  Known for his innovative approach to visual storytelling and his engaging teaching style,  he received one of  the initial Journalism360 Grants for Immersive Storytelling to bring  360 video journalism to community media organizations in the NYC area.
He has lectured and taught workshops and classes at Columbia University Graduate School of Journalism, SVA, the International Center of Photography's New Media Narratives, CAMERA, the Italian Center for Photography and around the world for National Geographic Expeditions.
In the hazy past, he had a long career as a photojournalist, first for The Philadelphia Inquirer, magazines like LIFE and National Geographic, then he worked as an editor/producer at the multi-award winning MediaStorm. He is currently interested in looking deeper into 360 video and spatial audio and using his iPhone to capture the world around him every day.