Each year NENPA is proud to celebrate and honor truly extraordinary work through the Better Newspaper Competition. This year's entries were evaluated by the New England Newspaper & Press Association's distinguished panel of judges. The results of the competition recognize the excellent journalism that is taking place throughout New England.
This is the largest and most comprehensive journalism recognition program in the region — NENPA member newspapers from Connecticut, Maine, Massachusetts, New Hampshire, Rhode Island and Vermont are invited to enter. Work published by daily, weekly and specialty newspapers during the August 1, 2016 to July 31, 2017 contest year were eligible for this competition.
Join us to celebrate with the finalists and winners at the Journalism Awards Banquet on Saturday, February 24, 2018!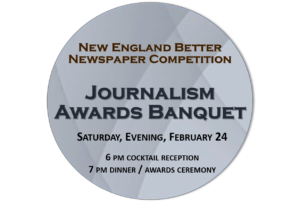 Saturday, Feb 24
6pm Cocktail Reception
7pm Dinner and Awards Presentation