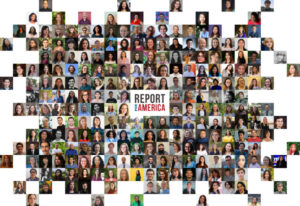 Report for America (RFA) helps local newsrooms report on under-covered issues and communities by sending early-career and mid-to-late-career reporters and photographers to newsrooms throughout the country. As an RFA Corps Member, you'll be a part of a movement to strengthen communities—and our democracy—through local journalism that is truthful, fair, fearless, and smart.
RFA is a two-year program, with an optional third year. Each service year begins on July 10 and runs through July 9. We currently have 300 reporters and photographers in 200 newsrooms serving communities across the country.  We are seeking talented, service-minded journalists and photographers to join our reporting corps.  Applications are now open for 55+ journalism positions. Check out our interactive database of job openings, newsrooms, and beats here and read the FAQs to make sure you are a good fit for our program. Because of the immediate impact candidates are expected to have in newsroom settings, corps member applicants should have a minimum of 1-3 years of local news experience. Recent graduates may apply if they've had local newsroom internships or journalism leadership experience in college.
Deadline Date to Apply: January 30, 2023
Report for America is committed to equity, diversity and inclusion in the workplace.
Application Process
To apply, complete the corps member application below. The deadline to apply is January 30, 2023.  Should you become a finalist and be slated for one or more newsroom interviews by our selection team, your application will be shared with those newsrooms.
Important Note: Please be sure to alert your two references that they will receive an email from Submittable, our application platform, with the recommendation form.  At the prompt in the application, we strongly recommend you send this form right away even before completing your application.  Your application will not advance if we don't receive your two references by February 6, 2023 – the reference deadline.
Questions?
Contact the Report for America recruitment team at recruitment@reportforamerica.org or join us for one of our virtual information sessions.  You may register for an information session here.