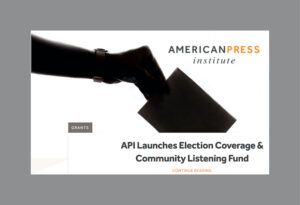 The American Press Institute is launching a small grants initiative to help newsrooms improve and deepen their relationships with their communities in this year's elections.
The grants will be awarded as part of API's Election Coverage & Community Listening Fund, a program aimed at empowering news organizations to implement community listening in their elections coverage between now and November 2022. We hope these efforts yield important lessons for 2023 and 2024 that can be shared through journalism networks and conversations facilitated by API.
News organizations that have ideas for ways to forge stronger community relationships through deep listening and engaged reporting may apply for these grants of $1,500 to $5,000 per newsroom through August 17, 2022.
As part of the program, API will also award up to 20 free one-year licenses for Source Matters, an API tool that tracks and improves the diversity of your news stories. Some recipients may receive both a grant and a free Source Matters license.
"Participating in our representative democracy requires access to accurate information about our communities, their problems and possible solutions," said Michael Bolden, CEO and executive director of API. "With important elections on the horizon, we see an immediate need to help local news organizations think about coverage in ways that help their communities make informed election decisions through improved coverage for 2022 and beyond."
Applications are due by 5 pm ET on Wednesday, August 17, 2022. Funding decisions will be made by Wednesday, August 24, 2022, with applicants notified shortly thereafter.
All U.S. local news organizations, either nonprofit or commercial, are eligible to apply. We welcome applications from news organizations of any size, including daily or weekly newspapers, public or commercial radio, TV, digital-only news sites, or other non-traditional news and information formats, and those serving urban, suburban or rural populations, including specific ethnic, racial or religious demographics. We will also consider applications from individuals leading or launching their own news organization or who are working with an established news organization. API will designate at least 30 percent of grant funds for ethnic media organizations.
Learn more about the program on the API website