It's time to submit your entries! Deadline extended until August 11!
The

New England Newspaper Awards

recognize the region's best work each year. These top awards, presented at the fall conference, include:
Below, you will find everything you need to submit your work. This year, this is no need to mail anything – everything will be submitted through the links! There are links to download the entry form and guidelines, links to upload all of your entries, and helpful information about how to name each uploaded file. We will send you an invoice when the submission period ends.
If you have any questions, please contact Linda Conway at l.conway@nenpa.com.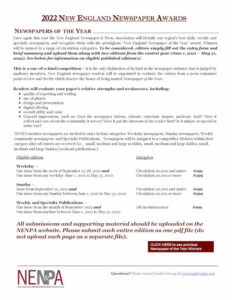 Important things to remember:

– all entries should fall within the contest year dates:

June 1, 2021, to May 31, 2022.
– deadline:

all entries should be uploaded by

Thursday, August 11, 2022
– please follow the instructions below on naming your files with the distinguishing info requested.
Download the entry form. Fill it out electronically and save it including your newspaper name and "EntryForm" example: EntryForm_LocalPost.pdf.
Upload your completed entry form. The form information will be used to create a bill. You will receive a separate email about this with options to pay.
UPLOAD ALL SUPPORTING FILES FOR YOUR ENTRIES
Newspaper of the Year Submissions
File naming: Please include your newspaper name, NOY and date. example: LocalPost_NOY_09152021.pdf
File naming: examples: LocalPost_Cover_NOY_Daily.pdf, LocalPost_Cover_NOY_Sunday.pdf
Additional Newspaper Excellence Submissions
File naming: Include your newspaper name, PO, and headline. example: LocalPost_PO_AwardsAnnounced.pdf
File naming: example: LocalPost_Cover_PO_AwardsAnnounced.pdf
File naming: Include your newspaper name, FA, and head-line. example: LocalPost_FA_OpenMeeting.pdf
File naming: example: LocalPost_Cover_FA_OpenMeeting.pdf
File naming: Include your newspaper name, ABR and head-line. example: LocalPost_ABR_BrokenSystem.pdf
File naming: example: LocalPost_Cover_ABR_BrokenSystem.pdf
File naming: Include nominee name and JOY example: Smith_JOY.pdf
File naming: example: Smith_JOY_Support.pdf
File naming: Include nominee name and BW example: Smith_BW.pdf
File naming: Include nominee name and BW example: Smith_BW.pdf