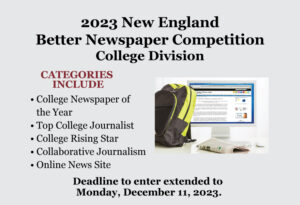 We have already received so many requests for an extension this week that we are extending the deadline to enter the Better Newspaper Competition until Monday, December 11, 2023.
Starting in 2022, colleges and universities in Connecticut, Maine, Massachusetts, New Hampshire, Rhode Island, and Vermont were invited to enter the New England Better Newspaper Competition in 27 competitive categories, including College Newspaper of the Year. Our first year was a resounding success, with 14 schools participating.
Get your school recognized in 2023, the contest is open for entries now and all schools may enter, regardless of membership status, and submit up to 10 entries for a low flat fee of only $125.
We are running a promotion for Academic Membership to the New England Newspaper and Press Association that includes the contest entries. Click here for information on the expanded benefits of Academic Membership.
Work published by student newspapers in print and/or online during the contest year, August 1, 2022, to July 31, 2023, is eligible for this competition.
You can download the information packet for all the information necessary to prepare your entries, including a list of competitive categories, complete rules and guidelines, and criteria that each contest category will be judged upon.
The deadline to submit entries is extended to Monday, December 11, 2023.
Awards will be presented during the annual New England Newspaper Convention, which will be held at The Waltham Westin Hotel on March 22-23, 2024. The special room rate of $149 per night is available to book now!
We encourage you to participate in the Better Newspaper Competition to recognize your students' best work, compete with peers, and compare your coverage and publication.
We wish you the very best of luck in this year's competition!
For further information, please get in touch with students@nenpa.com.
Learn more about the Better Newspaper Competition
Learn more about NENPA Academic Membership