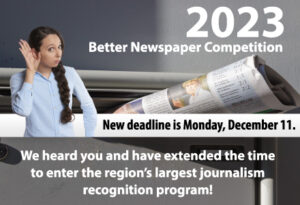 We have extended the deadline to enter the region's largest journalism recognition program to Monday, December 11, 2023.
It takes highly skilled, passionate, and determined individuals to produce high-quality publications. Each year the New England Newspaper & Press Association recognizes the achievements of the very best newspaper professionals in New England in the Better Newspaper Competition.
The Better Newspaper Competition is the largest and most comprehensive journalism recognition program in New England.
Work published by NENPA member news organizations during the contest year, August 1, 2022, to July 31, 2023, is eligible for this competition.
The competition has three divisions:
Download the information packets and you will find all of the information necessary to prepare your entries, including a list of competitive categories, complete rules and guidelines, and the criteria that each contest category will be judged upon.
You can find additional information on preparing entries – such as how to make PDF files smaller, extract particular pages, and combine several PDF files – on the Frequently Asked Questions page at the end of the packets.
The deadline to submit entries is extended to Monday, December 11, 2023. 
Awards will be presented during the annual New England Newspaper Convention, which will be held at The Waltham Westin Hotel on March 22-23, 2024. The special room rate of $149 per night is available to book now!
We encourage you to participate in this year's Better Newspaper Competition to show off your best work, reward and recognize your staff, and share ideas so we can learn from each other!
We wish you the very best of luck in this year's competition!
If questions arise while preparing your entries, please email L.Conway@nenpa.com or T.Cleary@nenpa.com.
Learn more about the Better Newspaper Competition