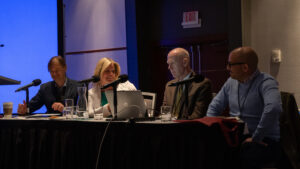 On April 29, 2022, during the NENPA convention in Boston, attendees were introduced to the concept of Funding Journalism with Innovative News Labs and how they work to provide greater focus on specific communities and local issues that many news outlets overlook.
The panel included Frank Mungeam, Chief Innovation Officer, Local Media Association, Liz White, Publisher and EVP, Record-Journal Media Group, Terry Williams COO and President, Keene Sentinel, and Carlos Virgen, Digital News Director, The Day. They discussed news labs they have developed, the communities they focus on within that lab, and funding models used to develop and sustain the labs.
As chief innovation officer for the Local Media Association, Mungeam has experience working with many news organizations to successfully develop reporting projects that are funded through philanthropy.
Virgen discussed The Day's news lab and its focus on the housing crisis in southeastern Connecticut. The primary issues the Housing Solutions Lab covers are affordable housing, zoning laws, and homelessness. 
"Identifying the communities that need the information, that need to be connected with the resources, that need their stories to be told," said Virgen. "Ultimately our goal is to tell the stories from their perspective, to put a human face on the issue so that the discussion moves from being a discussion about it being their problem…to becoming an issue, a problem of our community."
The Housing Solutions lab currently has three reporters and hopes to expand into other issues such as healthcare and criminal law.
Williams talked about the Monadnock Region Health Reporting Lab and its mission to provide a solutions journalism approach to healthcare reporting. He described some of the stories they had worked on, including a feature on EMTs and ambulance drivers and how healthcare centers are caring for and treating coronavirus patients.
With strong connections and partnerships across New Hampshire, Williams believes the news lab approach makes way for more in-depth reporting on pressing issues and solutions and focusing on the community's needs.
"They appreciate that you're listening to them. Their information is invaluable in terms of guiding them," said Williams. "Our belief is if we do this work right, we would save some lives."
Lastly, White discussed the Latino Communities Reporting Lab that launched in March 2021 and whose mission is to amplify the voices of Latino communities. The team consists of six bilingual journalists, two bilingual reporters, and one bilingual editor, in addition to freelancers and interns who have produced over 200 stories and videos so far on a multiplatform model in both English and Spanish.
White also discussed some of the difficulties in receiving funding for news labs.
"Every no leads to a yes," said White. "You're going to have to talk to a lot of different people for funding, or a lot of different businesses for sponsorships."
Closing out the panel, Virgen had a message regarding the importance of community-focused news labs.
"It's that model of community listening and centering the community's needs," said Virgen. "Allowing that opportunity to inform our coverage."
By Samuel Elwell, RWU Class of '23, Managing Editor | The Hawks' Herald