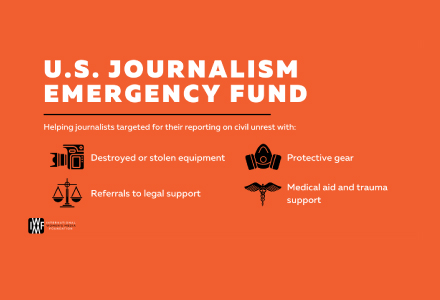 The International Women's Media Foundation has partnered with Craig Newmark Philanthropies to establish the United States Journalism Emergency Fund. This fund will directly support U.S. journalists in need so they can resume work essential to our functioning democracy. Made available to U.S. based journalists regardless of gender including men, these funds will:
support journalists with immediate needs related to their professional work, such as medical aid, destroyed or stolen equipment and protective gear;
support long-term journalist needs such as trauma, mental health services and referrals to legal support; and,
support journalists targeted as a result of their reporting at events related to the highly charged political unrest and polarization in the U.S., including but not limited to elections, civil movements and other challenging environments.
Applicants must be U.S. journalists with journalism serving as their primary profession and must provide proof of their financial need. Funding is available to both staff journalists and those working independently.