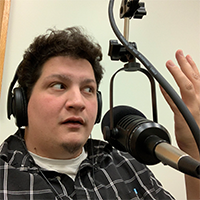 Jason Kolnos has been a stalwart journalist in the Cape Cod Times newsroom for 15 years and cut his chops here at the Times when he was a Barnstable High School student in the late 1990s.
For most of his career at the Times, Jason has been a key multimedia storyteller, criss-crossing the Cape wielding a video camera to find compelling stories to share online and in print. Since May 2015, Kolnos has helmed the digital news operations and manages the Times robust social media presence.
A highlight of his career has been his work for 7 years as a videographer and editor of our daily webcast called CapeCast, alongside colleague and host/producer Eric Williams. This national and regional award-winning webcast featured everything interesting happening on Cape Cod in lively video vignettes.The CapeCast YouTube page has nearly 30 million total views.
Kolnos has also been the Times' lead multimedia reporter for news videos, including breaking news and news features for many years. He's created more than 1,000 news videos and contributed to various Times projects including series' about fallen soldiers, the region's drugs epidemic, the housing crisis, race relations on the Cape and how climate change affects the peninsula.
Jason is a 2003 graduate of Boston University/College of Communications and was a Knight Foundation fellow at the University of California, Berkeley. He previously worked at BU's student newspaper The Daily Free Press and had an internship at The Independent in London. In his spare time, Jason tries to manage his addiction to the beach and Apple products.