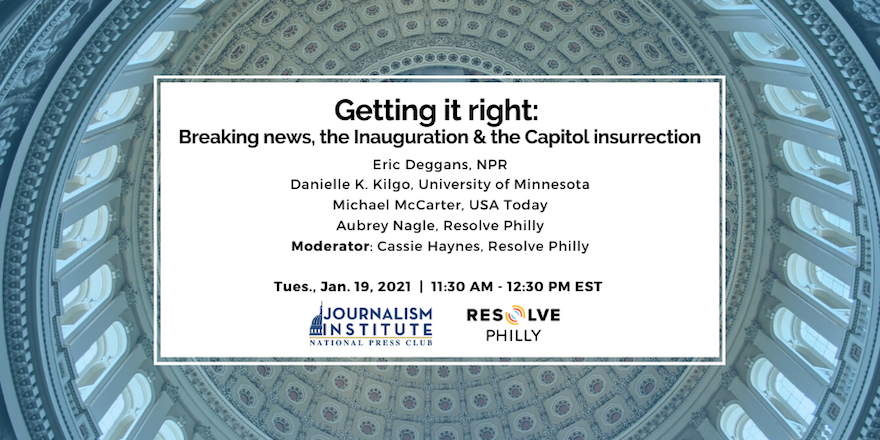 When:
January 19, 2021 @ 11:30 am – 12:30 pm
2021-01-19T11:30:00-05:00
2021-01-19T12:30:00-05:00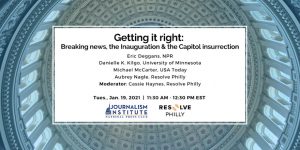 Newsrooms mobilize on instinct when news breaks. Those split-second decisions — how we describe an individual or a group and their actions — can define reality for millions of people. The Capitol insurrection provides lessons for the upcoming Inauguration in what loaded language to avoid, questions to ask in real-time, and how your values influence the way audiences understand and remember world events.
Join the National Press Club Journalism Institute and Resolve Philly for a practical program that will leave you with tips you can use to ask the right questions in real-time and prepare to cover the unexpected on Inauguration Day and in the weeks and months that follow.
Registration is now open for this program, which will take place from 11:30 a.m. to 12:30 p.m. EST on Tuesday, January 19, 2021.
The panel will feature: Eric Deggans, NPR TV critic, MSNBC/NBC commentator and author of "Race-Baiter: How the Media Wields Dangerous Words to Divide a Nation"; Danielle K. Kilgo, the John & Elizabeth Bates Cowles Professor of Journalism, Diversity and Equality in the Hubbard School of Journalism and Mass Communication at the University of Minnesota, Twin Cities; Michael McCarter, managing editor for standards, ethics & inclusion at USA Today; Aubrey Nagle, Reframe editor at Resolve Philly. The program will be moderated by Cassie Haynes, co-executive director of Resolve Philly.